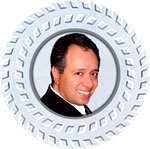 Meir's Muses
MyMagic eNewsletter #832
May 17, 2020
FIRST: I am continuing to ship your orders on a daily basis. Thank you for your continued support.
My Zoom lecture tour has just reached its halfway mark. As I wrote previously, I decided to extend the tour until June 14th where I will officially retire the new lecture when I present it to the SAM Virtual Assembly.
Although most of the upcoming nights are taken by groups in the East Coast, I can still add lectures to clubs in the Mountain and Pacific time zones, as well as Europe, Asia, etc. The lecture continues to improve and now lasts around 90 minutes plus a Q&A at the end. Let me know if your group or club wants to book a date. It is FREE.

Since the majority of my livelihood is the production of magic and all that goes with it, I mostly live a life of self-isolation and self-distancing… Although this lifestyle did not have a name until now. I am glad that next week New Jersey will begin transitioning to normalcy and I already received an offer for a live show in July, so things are slowly moving forward. Stay safe.

There are also Pop-Up Drive-Inn theaters opening around here in parking lots and racetracks where they are beginning to offer concerts and movies. Would it be possible to do walk-around magic from car to car? Instead of Street Magic we could have a new category of Drive-by Magic?

I was expecting several shipments of new magic to arrive this week, but UPS decided to accidentally ship it to another state. But I do have one new item to offer you. The popularity of the magic themed lapel pins has been strong so Rich who manufactures them decided to add another image to the collection.
Magic Lamp Lapel Pin:
This is a gold Genie Lamp that you can put on your jacket lapel, on your tie or even on your shirt collar.

It is a nice and subtle way to let people know that you are a magician and work in the field of mystery… or maybe you are just a fan of Genies.

Get a Genie pin: HERE
Business Card Paradox:
Several years ago, I released Bob Page's excellent paper puzzle that was used to introduce your business card or any message.

I thought it would work well in a Zoom meeting that you can customize to whom ever you are dealing with. The various video trailers have received well over a million views, so I know it is a viral property.

Watch and buy: HERE

Back In Stock:
Wellington 6-9-15 Stage Paddle: HERE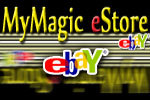 I have 35 auction items expiring tonight. Of particular interest to collectors will be original Willard The Wizard printing plates.

The rest of the items are mostly collectible decks of cards and some odd books.

There is a total of 35 items at auction and more than 200 items in my eBay store.

A direct link to the auction items is: HERE

If you want to visit the store and browse around go: HERE.
Warehouse Finds, Limited Quantities & Great Prices:
This is part of a large Joker Magic inventory I purchased recently. Many of these items are no longer being manufactured and the ones that are will not be restocked. Once they are gone… they are gone!

Still Available:
►Preferred: HERE
►Pass Through Deck: HERE
►Giant Domino: HERE
►Hit The Jackpot: HERE
►Fully Packed: HERE
►BRB Dice: HERE
►Mobile Printer: HERE
►Clone Cube: HERE
►Cube 4 You: HERE
►Ultimate Change: HERE
►Chameleon Deck: HERE
►Boomerang Cards: HERE
►Penhenge Sharpie: HERE
►Inexhaustible Pack Of Cards: HERE
►Chinese Coin Bending: HERE
►Color Changing Gum: HERE
►Gum Game: HERE
►Find The Red Card: HERE
►Magnetic Domino: HERE
►Jumbo Chinese Coin Color Change: HERE
►Vanishing Magnetic Mini Deck: HERE
►Ring On A Rope: HERE
►Silk Cube: HERE
►Mystic Wand: HERE
►Plexiglass Prediction: HERE
►Chinese Coin Transformation: HERE

Stay safe, Meir
Upcoming Live Appearances:
► The Magic Bag Of Trix Lecture appearing at magic clubs worldwide during their Zoom meetings.
CAPITULATING QUEENS
MORE INFO & BUY: HERE

This routine has often been referred to as one of the best packet tricks. It has more visual impossibilities than most in its genre.

You cleanly show four queens, explaining that one of them is very special. The first three Queens that are selected are shown to have different colored backs.

The last Queen is cleanly shown to have a blue back as you explain it too is special. The cards are shown again and now they all have red backs except for the last Queen.

As a finale the four Queens are shown to have four different back designs and colors and they can even be handed for examination.
CATCH ME & WIN
MORE INFO & BUY: HERE

Gene Maze's fantastic chain routine combines the Fast & Loose or Endless Chain routines with the classic Three Card Monte and Three Shell Game scams. When the routine was originally published many top pros built their own sets and put it into their shows.

The object is for the spectator to pick the peg that catches. No matter how hard they try they can't find it. Even though you keep making it easier and giving them tips, they always fail. Of course, the secret lies in the fact that you have total control of whether the spectator wins or loses.
RAINBOW CARD ROUTINES
MORE INFO & BUY: HERE

Higar's Rainbow Phantom Cards are among the most ingenious technologies that has been applied to magic. I have been performing with them for years and on this video tutorial I will teach my three favorite routines. These are routines that I use. Two of them are close-up routines and one is used when I am performing formal close-up or stand-up.

Taught are Meir Yedid's Rainbow Cut Card Routine, Rainbow Doctor Who Routine, Rainbow Wonder Mirror Routine, and Trevor Lewis' Swivel Cut Swindle.

The spectator's face is always framed with the reveal and saved on their phone. And most importantly every time they look at the picture, they will be reminded of you and your performance.
MAGICIAN BADGE
MORE INFO & BUY: HERE

This is a real Magician Badge that was fashioned on the badges used by law enforcement agencies around the world. It adds a level credibility to magicians while at the same time adding humor to your introductions. It is a great icebreaker.

The next time you walk up to strangers you can pull out the badge as you say your name and title of Magician. It causes a moment of panic followed by relief and laughter.