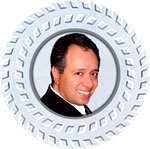 Meir's Muses
MyMagic eNewsletter #878
November 7, 2020
Since releasing the Taillight Color Changing Knives, several magicians asked if Terry Broshears is planning to make three-knife sets. A three-knife set allows you end clean at the end, so everything is examinable.
I just received a few of them and some additional two knife sets. I have been performing with them and realized that I should have called them Brake Light Knives instead of Taillight Knives.

Although car people know what taillights are, I find that on average calling them break lights is universally more understandable.

Get the Taillight Knives: HERE
Get a Stag Knife Set: HERE
Get a Venue Approved Hot Rod Knife: HERE
Get a Hot Rod Knife: HERE
Get a Knife Lapel Pin: HERE
Get Ascanio's World of Knives: HERE
Get Meir Yedid's Strolling Knife Routine: HERE
Get Michael Skinner's Color Changing Knives Video: HERE
Creative Coin Magic:
The introductory sale price for this download ends on Tuesday. There are three routines on the trailer, and I included them because I like them and I thought you will too. Let me tell you why.

The first routine uses the Matting technique I mentioned in the last newsletter. I bet you were completely fooled when the two coins vanished at the end. The second routine is a reverse matrix routine that uses four different coins and no extras or gimmicks, all that is used is what you see.

The last routine is surprising because it does not use any gaffs. I will likely start using the first phase of this routine where a match box opens by itself a match is removed and lit, and a coin appears from the flame. Easy and everything is examinable. Will probably do it with a poker chip or as an opening for any coin routine. I think you will like it.

Watch and buy: HERE
I was wondering why there was a surge of orders for my Gigantic Comedy Prediction recently. It turns out that it got a phenomenal review in the SAM's MUM Magazine by Norman Beck.

My favorite part of the review was: "No rough and smooth. No switches. No stooges. No sleight of hand. No memory work. No set-up. No bullshit.
Unlike many tricks on the market, where the dealer tells you something is good, in this case Meir shows you, with live footage of professional magicians actually doing the routine in their show. Tricks like this are few and far between. This one gets my highest recommendation."

I am also surprised at how many pros have ordered multiple pieces and already added it to their stand-up repertoire as their live shows started coming back.

Watch and buy: HERE
They are back…
I quickly sold out of Alakazam's Swindle and What Happens In Vegas a couple of weeks ago but the good news is that a case full of stuff just arrived from the UK which includes both of those and a new trick that I will introduce next week.

Buy Swindle: HERE
Buy What Happens In Vegas: HERE
eBay:
Was able add a bunch of new collectible slum magic items last weekend.
24 Auctions ending on Sunday: HERE
246 Collectibles in the store: HERE
FREE Bat Quarters:
Wanted to remind you that I am continuing to include a free bat quarter with every shippable order and an additional quarter for every $100 spent. I was able to get two more rolls of them so I should be good until the end of November. Promo info: HERE

Stay safe, Meir

PS: Don't forget to visit MagicTimes.com and watch the first four episodes of the Houdini Mini-Series.
WHO'S AFRAID OF INVISIBLE THREAD?
MORE INFO & BUY: HERE

This is considered the definitive work on magic with invisible thread. If you have ever wanted to perform astounding magic where objects seem to move and float on their own this is your opportunity.

Based on Jon LeClair's best-selling book "The Art of Invisible Thread," this program takes you on a candid outing where LeClair performs live for startled spectators in a restaurant. You are then taught how to perform everything. LeClair's techniques can be used at virtually anytime and in any situation — they are the most practical methods for using invisible thread ever developed.
ESP FEELER CARDS
MORE INFO & BUY: HERE

This is a set of six ESP Symbol Cards (Rhine Cards) that have been manufactured with the "Feel A Color" principle build into them. This allows you to feel the orientation of the cards, even while they are inside envelopes.

They can be used in many ways and can reproduce routines commonly done with one-way cards… except these can be performed while you are blindfolded or with the cards behind your back.