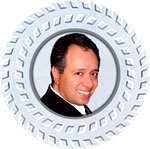 Meir's Muses
MyMagic eNewsletter #849
July 22, 2020
FIRST: I am continuing to ship your orders on a daily basis. Thank you for your continued support.
Stacked and memorized decks and parts of decks have been published since the 1500s. There have been many innovations over the centuries. During my lifetime, the proponents who jump started the current trend of hands-free magic with a stack were Simon Aronson and of course Juan Tamariz and his Mnemonica stack.

There have also been many short cuts and aids marketed to help memorize decks or keep the stack visible to you during routines. The funniest and boldest was by Craig Dickson. This is the latest and likely the most devious.
Stack Watch:
It is actually a very nice-looking men's Chrono watch, the type I usually wear. The movable dial has the Mnemonica stack printed on it which allows you to track the position of every card in the stack.

Perhaps its best application is using it as a crib sheet incase you run into trouble and need a memory jog. Since it is always with you, you can also use it to learn and practice memorizing the Tamariz' stack.

The video tutorials are mostly generalizations that teach a bunch of applications and routines. But you do need to have decent eyesight to see cards and locations and actually memorizing the stack will allow you to take full advantage of what the watch can do.

Watch & Buy: HERE
Back In Stock:
►Ghost Cash: HERE
►Impossible: HERE
►Winner's Dice: HERE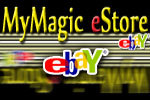 Last week's eBay auctions went well so I decided to go through more boxes of slum magic. Most of this stuff is more than 50 years old and all of it came from Danny Tsukalas' Magic Counter at Macy's in NYC.

This Sunday I have 80 items expiring. Since this is a store inventory, I have multiples of many of the standard items and will keep listing them until I sell out.

Funny thing is that many of the items that I had singles of, sold out on Sunday. How did you know?

►A direct link to the 80 auction items: HERE
►Visit the entire MyMagic eBay store: HERE

Stay safe, Meir

PS: As I got older, I started buying bigger watches, not realizing why. Until my eye doctor explained.
FUSION COINS
MORE INFO & BUY: HERE

Two coins are examined by your friends (a Quarter and a Penny) as you explain the different metals they are made of.

You then place the Penny on top of the Quarter and after a little squeeze the penny sinks into the quarter and is fused inside. The odd new coin can then be examined.

You pick up the coin, give it a little shake and the penny falls out leaving everything examinable and ordinary.
STRETCHING QUEEN
MORE INFO & BUY: HERE

This is a beautifully clean handling of Peter Kane's brilliant Elongated Lady effect.

You begin by removing three cards from your deck. The Queen of Hearts and the two black nines. All the cards are cleanly shown as you place the Queen face up between the two face down nines. In an eerie visual the Queen begins to stretch to one-and-a-half times its length for an impossible visual.

The Queen is then shrunk back to its normal size and all three cards are cleanly shown on both sides. The Queen can then be given out as a souvenir.
RUBINSTEIN RATTLE PURSE
MORE INFO & BUY: HERE

This is a very special coin purse that is hand-made in Italy using fine Italian leather and contains real coins inside a hidden compartment that are used to create a perfect jingling sound when the purse is shaken… even when it is empty.

The purse is used to add an audible element to your coin magic. Simple things like shaking the purse after pretending to put coins inside, solidifies the fact that the coins must be inside because you can hear them inside. The same sound can be used to prove the arrival of vanished coins before any sneaky stuff is done.
CATCH ME & WIN
MORE INFO & BUY: HERE

Gene Maze's fantastic chain routine combines the Fast & Loose or Endless Chain routines with the classic Three Card Monte and Three Shell Game scams. When the routine was originally published many top pros built their own sets and put it into their shows.

The object is for the spectator to pick the peg that catches. No matter how hard they try they can't find it. Even though you keep making it easier and giving them tips, they always fail. Of course, the secret lies in the fact that you have total control of whether the spectator wins or loses.