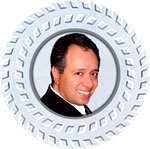 Meir's Muses
MyMagic eNewsletter #859
August 26, 2020
FIRST: I am continuing to ship your orders on a daily basis. Thank you for your continued support.
The last newsletter turned out to be extremely popular and the Tops I offered sold out within an hour. It reminded me of a newsletter I sent out exactly eight years ago (archived here). I decided to incorporate the instructions to those Gaffed Put & Take tops here and show how the seemingly same prop can be used in a slightly different game. I am including the historical part of the story for reference and possible presentation.

Put & Take is a gambling game using a Dreidel or Top and is part of the Teetotums family of games which have been around since the sixteenth century. The six-sided Tops pictured here were extremely popular in the United States during the first half of the twentieth century and were even referred to as a "craze" since all you needed was some money and the Put & Take Top to play.
The basic P&T Top had six sides which were alternately marked: P1, P2, P3 and T1, T2, T3. This simple game worked like this: everyone in the game would start by putting some money in the pot, let us say $5. Each player would then be given an opportunity to spin the Top. If it landed on P1 they would PUT an additional dollar in the pot, P2: $2 and P3: $3. However, if the top landed on T1, T2 or T3 they would TAKE $1, $2 or $3 from the pot. A simple game which seems very fair and random.

The game was so popular that there were movies, Broadway shows and even songs written about it. Even though it was popular in bars and social gatherings, things suddenly started to change when gambling companies started producing gaffed Tops that could be controlled by the cheater. Pretty soon the players were divided into cheaters and suckers where the suckers have no chance of winning.
So how does the gaff work?
If you spin the Top clockwise it will land on one of the PUT numbers. If you spin it counterclockwise it will land on one of the TAKE numbers. Most gaffs of this nature work about 80-90% of the time but this one seems to work at a much higher rate when spun on hard and flat surfaces. Since most people automatically spin clockwise, they will consistently lose.
What you get is the Gaffed Put & Take spinner that is pictured. It will not include any instructions or fancy packaging. Just the spinner. You may print this newsletter as your instructions. I am pretty sure these were manufactured by SS Adams more than fifty years ago but do not know for sure.

Get a Gaffed Put & Take: HERE
Additional thoughts and magic applications:
I think that this would make a great piece in a gambling themed act. Using the description above, you give the history of the Put & Take.

Then you give the spectator five dollars to play with and you put five dollars in the pot. You play against him/her until you win all the money. This will be very quick unless they are left-handed.

Then you explain how the gaff works and let them try it. I am sure that an audience would be fascinated by the whole presentation. It is one of the few gambling exposes where the audience not only learns and experiences the con, but they can also try it themselves. Unlike a center deal demo where they cannot experience doing the work.

An idea from Gary Brown: Gary suggested that it is more deceptive if you spin the Top left-handed instead of giving it a reverse spin.

Get a Gaffed Put & Take: HERE
Al The Only's The Magic Graveyard book was scheduled to arrive here on Tuesday, but it has been delayed. It may be a coincidence but ever since the post office has been politicized, they seem to be running a day or two behind and the tracking can often show why. I hope to get them in a day or two and will add them to the website immediately after making sure they are all in good shape. Please sign up for notifications: HERE

Stay safe, Meir

PS: I have 4-5 new products that are in the final stages of being released. I hope to introduce them to you every week or two. Stay tuned….
ESP FEELER CARDS
MORE INFO & BUY: HERE

This is a set of six ESP Symbol Cards (Rhine Cards) that have been manufactured with the "Feel A Color" principle build into them. This allows you to feel the orientation of the cards, even while they are inside envelopes.

They can be used in many ways and can reproduce routines commonly done with one-way cards… except these can be performed while you are blindfolded or with the cards behind your back.
FUSION COINS
MORE INFO & BUY: HERE

Two coins are examined by your friends (a Quarter and a Penny) as you explain the different metals they are made of.

You then place the Penny on top of the Quarter and after a little squeeze the penny sinks into the quarter and is fused inside. The odd new coin can then be examined.

You pick up the coin, give it a little shake and the penny falls out leaving everything examinable and ordinary.
STRETCHING QUEEN
MORE INFO & BUY: HERE

This is a beautifully clean handling of Peter Kane's brilliant Elongated Lady effect.

You begin by removing three cards from your deck. The Queen of Hearts and the two black nines. All the cards are cleanly shown as you place the Queen face up between the two face down nines. In an eerie visual the Queen begins to stretch to one-and-a-half times its length for an impossible visual.

The Queen is then shrunk back to its normal size and all three cards are cleanly shown on both sides. The Queen can then be given out as a souvenir.
VICTORIOUS TRIUMPH
MORE INFO & BUY: HERE

Jim Krenz has created what is likely the cleanest and most magical Triumph routine you will ever do. Thanx to some gimmicked cards and an ingenious handling this self-working routine is a work of art.

Victorious Triumph: A self-working version of a classic routine where a freely selected card is lost in the deck. The cards are repeatedly shuffled face-up and face-down and their mixed condition is shown after each shuffle. In an instant, the deck is spread to reveal all the cards face down, except for the selection, which could have been signed. Can be done with multiple selections and you can even let the spectators do the shuffling!

Along with the one-hour instructional DVD you are supplied with all the necessary gimmicked cards for the three routines: Victorious Triumph, Victorious Cards Across, Victorious Assembly. Use your own Bicycle Poker-size deck.