Meir's Muses
MyMagic eNewsletter #982
December 15, 2021
Had fun last week doing my final stage show of the year. This Saturday I will be doing two shows with my friends Eric DeCamps, Thomas Solomon, and Joe Garsetti.
Although it is being billed as a "24 Karat Close-Up Show" I decided to do a shortened Parlor version of my stage act instead.
If you are in the New Jersey area you can get tickets: HERE
There was also an article in the local newspaper about the show: HERE
For many years the only way you could get Higar's Rainbow Phantom Cards were either from Seo Magic or myself.
You may have noticed that Higar licensed his technology to Tenyo for one of their 2022 releases. The Magical Photography trick includes two reveals that use that technology. I stopped carrying the Tenyo products when they changed their business model to allow for massive discounting on their items. I would highly recommend you get the new item and search around for the best prices. You can easily get them at a discount of at least 25% off the retail price.
I have not been able to get any of the original black cards (which are the ones I use most often) but I did just get a shipment of the original Mirror Cards. I also organized them in a way for you to get your favorite force cards, if available. You will also find info to my download which features three of my routines using the cards.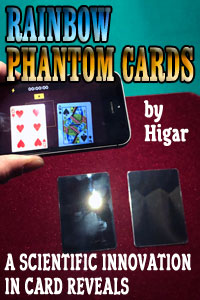 ►Rainbow Phantom Card:
This is one of the most ingenious technologies that has been applied to magic. It was created and patented by Higar and has already been released in many different forms.
Perhaps the best magic application is with playing cards.
My favorite variants are the Black Rainbow Phantom Card and the Mirror Rainbow Phantom Card. Both work the same way. The card is examinable, but when photographed, the photograph in the spectator's smart phone appears to have turned into the spectator's selection.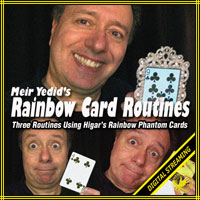 Watch & Buy: HERE
►Rainbow Card Routines:
This is a video tutorial teaches three of Meir Yedid's routines using Higar's Rainbow Phantom Cards. Two of them are close-up routines and one is used for formal close-up or stand-up shows.
Routines include: Rainbow Cut Card Routine, Rainbow Doctor Who Routine, Rainbow Wonder Mirror Routine, and instructions on how to do Trevor Lewis' Swivel Cut Swindle.
Buy: HERE
►Standing Ovation & Mental Masterpieces:
If you missed out on the Larry Becker downloads you can now buy the two videos as a set.
Standing Ovation: Routines performed and explained: Tri-Coinetic, Visual Aid, Phantasm Supreme, Here, There & Everywhere, Some Total-Stage, and Russian Roulette (Performance only).
Mental Masterpieces: Routines performed and explained: H.G. Wells' Time Machine, Out of Body, Casino Royale, Kolossal Killer III, Clearly Predictable, Calendar Caper, Ultimate Flashback (Performance only).
The combined running time of the two videos is around 3-hours and 20-minutes.
Buy the set: HERE
And for Larry Becker, and mentalism fans you can still get the Desert Brainstorm video series: HERE
►eBay:
Have been ignoring my eBay store lately but just added some original Jerry's Nugget decks and some other stuff you might like. As usual all auctions will end on Sunday night.
►A direct link to the auctions: HERE
►A link to my eBay store: HERE
►Upcoming Live Appearances:
►Dec 18: Performing in the 24 Karat Close-Up show at the Sparta Ave Stage in New Jersey.
►Jan 14-18: Displaying at the SAM Convention in Las Vegas.
►Jan 18: Performing in and Emceeing the final show of the SAM Convention at the Golden Nugget Showroom in Las Vegas.
For all tour dates go: HERE
Stay happy, Meir
PS: Just found out that my 2021 book release has been delayed to 2022. I am hoping for the shipment to arrive around Jan. 5-7. I will also be including one-of-a-kind collectibles with every purchase.