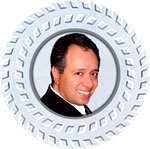 Meir's Muses
MyMagic eNewsletter #841
June 24, 2020
FIRST: I am continuing to ship your orders on a daily basis. Thank you for your continued support.
I am releasing a new product today. It comes from the Gary Plants line and it is one of the best versions of Peter Kane's Elongated Lady.
What makes it the best is that it is practically self-working, very clean and visual and the Queen, which has all the heat on it, is examinable and can be given as a gift at the end.
Stretching Queen:
It was routined by Jon Racherbaumer, Gene Castillon, and Marvin Johnson.
The cards can be removed from the deck or the three cards can be carried as a packet trick.
If you are not familiar with the basic effect it is a visual stretching of a Queen to close to twice its length, and then brought back to normal.
What is special about this version is that it is very fair looking and easy. I am sure you will love to perform this.
In addition to the video tutorial I am enclosing a spare gaffed card because I am sure you will ware one out.
Watch and buy: HERE
FREE WORLDWIDE SHIPPING: If you order it by itself, I will pay the shipping anywhere in the world. The shipping offer will expire in a week.
Get it now, get it: HERE
Until next time, Meir
Warehouse Finds, Limited Quantities & Great Prices:
This is part of a large Joker Magic inventory I purchased recently. Many of these items are no longer being manufactured and the ones that are will not be restocked. Once they are gone… they are gone!

Still Available:
►Preferred: HERE
►Pass Through Deck: HERE
►Giant Domino: HERE
►Hit The Jackpot: HERE
►Fully Packed: HERE
►BRB Dice: HERE
►Mobile Printer: HERE
►Clone Cube: HERE
►Cube 4 You: HERE
►Ultimate Change: HERE
►Chameleon Deck: HERE
►Boomerang Cards: HERE
►Inexhaustible Pack Of Cards: HERE
►Chinese Coin Bending: HERE
►Color Changing Gum: HERE
►Gum Game: HERE
►Magnetic Domino: HERE
►Jumbo Chinese Coin Color Change: HERE
►Vanishing Magnetic Mini Deck: HERE
►Ring On A Rope: HERE
►Silk Cube: HERE
►Mystic Wand: HERE
►Plexiglass Prediction: HERE

Stay safe,

Meir
NY COIN MAGIC SEMINAR
16-VOLUME DVD SET
MORE INFO & BUY: HERE

Dr. Michael Rubinstein, David Roth, Michael Gallo, Geoff Latta and their many friends, who also happen to be the the best creators and performers of magic with coins, showcase and teach the art of coin magic.

16 volumes, 17 DVDs (+1 bonus disc), 18-performers, 250+ routines and techniques, on 36+ hours of video. The DVDs also contain bonus features, panel discussions, historical discussions, lectures, workshops, hidden bonuses, guest appearances and much more.

RUBINSTEIN RATTLE PURSE
MORE INFO & BUY: HERE

This is a very special coin purse that is hand-made in Italy using fine Italian leather and contains real coins inside a hidden compartment that are used to create a perfect jingling sound when the purse is shaken… even when it is empty.

The purse is used to add an audible element to your coin magic. Simple things like shaking the purse after pretending to put coins inside, solidifies the fact that the coins must be inside because you can hear them inside. The same sound can be used to prove the arrival of vanished coins before any sneaky stuff is done.
POLARITY CARDS
MORE INFO & BUY: HERE

A set of five Bicycle playing cards (a Royal Flush) with magnets embedded in them which allows you to toss them from hand to hand as if they were a single card and then produce the rest. Using sleight of hand, you can make cards jump from hand to hand and even vanish them one by one.

The cards were made by hand using the thinnest and strongest magnets (for their size). The overall thickness of the five-card stack is around ten cards.
MAGICIAN BADGE
MORE INFO & BUY: HERE

This is a real Magician Badge that was fashioned on the badges used by law enforcement agencies around the world. It adds a level credibility to magicians while at the same time adding humor to your introductions. It is a great icebreaker.

The next time you walk up to strangers you can pull out the badge as you say your name and title of Magician. It causes a moment of panic followed by relief and laughter.