Meir's Muses
MyMagic eNewsletter #1,038
August 27, 2022
Debuting at Magic Live this year I saw some designer printed close-up mats. The one that caught my eye was the Expert At The Card Table mat which looked like the original book cover and included three illustrations. The others were Bicycle back designs. I was able to purchase all that was left, and I am not sure if they will make more. Take a look…
►Designer Close-Up Mats:
These are excellent quality close-up mats that were custom made in very limited quantity. You can use them to practice on or perform on.
The mats come in three different designs: Expert At The Card Table Mat, Bicycle Red/White Mat, and a Bicycle Red/Black Mat.
Made using fine, thick rubber. Overall size is around 15" x 12" x .25".
Get one or all three: HERE
►Blank Coins Routines:
In 1998 David Roth introduced the blank coins concept to magic. The idea was that blank coins can magically transform into any coin you want. Since that time, he continued to innovate, improve, and change his original routine. Along the way he also created some new techniques to facilitate the magic.
The video tutorial, that is included with this coin set, features David performing his original routine and the final version he decided to release. You will also learn Dr. Michael Rubinstein's routine and some ideas by Meir Yedid.
Watch and buy: HERE
►BACK IN STOCK: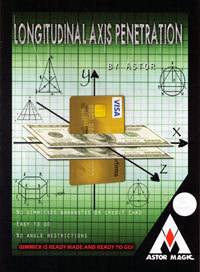 ►Longitudinal Axis Penetration:
Show a clear plastic case that can hold two US bills (any denomination and they can even be borrowed). You place the two bills side by side and then fold the case in half. Once folded the bills are seen overlapping as you point out a slit on both sides. Using a borrowed credit card, or your own, you can now visually push that card right through both bills apparently ripping them. But when the bills are removed from the case they are undamaged. And best of all… everything is examinable before and after the performance.
Includes and exclusive video tutorial.
Watch and buy: HERE
►ONE OF MY FAVORITES:
►B.S. Board:
This new B.S. Board has been redesigned and manufactured using special plastic. It folds to fit in your shirt or jacket pocket.
I can't explain it you have to watch the trailer.
It is ideal for close-up, walk around, bars, comedy clubs, emcee work and between friends. Don't underestimate the great reactions this memorable gag gets.
Watch and buy: HERE
Stay happy, Meir
PS: Sad to hear of the passing of my friend Martin Lewis.