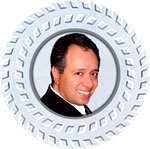 Meir's Muses
MyMagic eNewsletter #875
October 28, 2020
Although I am working on a bunch of new items and an upcoming promotion, I have been in a rut lately and do not have too much new to introduce you to this week. Although episode three of my Houdini Mini-Series went live yesterday. More below.
I was also able to get a bunch of the best-selling Jon LeClair "Who's Afraid of Invisible Thread?" DVD packages back in stock.

I am no longer able get the flesh colored putty that Jon liked to use so I had to substitute it with a combination of ivory colored putty and flesh colored wax. The invisible thread that is enclosed has also been improved with a blue tinted variant.

Look and buy: HERE.
Also arrived this week and back in stock:
►Quantum Coins and Cards: HERE
►Symphony Coins: HERE
►Ouija Pin: HERE
►Magic Lamp Lapel Pin: HERE
►Devil Head Lapel Pin: HERE

Have been continuing to update MagicTimes.com with archival and new content. There are now around 500 articles which include around 60+ features, 70+ videos, 70+ newsletters, thousands of news items, and much more…
Houdini Museum Tour: Episode Three:
Episode three is around 10 minutes long and centers around Houdini's movie career with some interesting inside information and how it almost ruined him financially. Perhaps the most interesting discussion is the evolution of the straitjacket escape and how his brother Hardeen was the one who started performing it and honed the routine.

If you are not a hardcore Houdini buff you will likely find out some new information and see Houdini memorabilia that you never knew existed.

Watch Episode Three: HERE
Watch Episode Two: HERE
Watch Episode One: HERE

Stay safe, Meir

PS: Next newsletter will blow your mind. I hope…
GIGANTIC COMEDY PREDICTION
MORE INFO & BUY: HERE

This is an ideal stand-up routine with intrinsic situational comedy. Even if you are not a comedian the situational comedy that is built into the routine will always get you laughs. But not just laughs… The magic is strong and there is even a duel reality ending where the spectator and the audience experience two different effects and both are impactful!

Comes complete with a Gigantic Prediction Card (10.5" x 15") that is transformational, a set of Jumbo Forcing Cards (5" x 7"), and access to a 30-minute video tutorial featuring Meir Yedid, Jim Spinnato, Rick Wilcox, and George Schindler.
ESP FEELER CARDS
MORE INFO & BUY: HERE

This is a set of six ESP Symbol Cards (Rhine Cards) that have been manufactured with the "Feel A Color" principle build into them. This allows you to feel the orientation of the cards, even while they are inside envelopes.

They can be used in many ways and can reproduce routines commonly done with one-way cards… except these can be performed while you are blindfolded or with the cards behind your back.