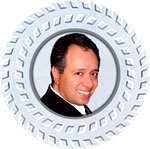 Meir's Muses
MyMagic eNewsletter #842


June 27, 2020
FIRST: I am continuing to ship your orders on a daily basis. Thank you for your continued support.

The response to the new Stretching Queen has been terrific and the free worldwide shipping offer will expire on Wednesday.

Gary Plants came up with a new idea combining the Stretching Queen with one other routine. I will try to shoot a performance video and share it with you soon. I think you will really like it since it will turn the quick trick into an entire routine.

Meanwhile my lapel pin/Jewelry line keeps growing, thanx to the talents of Rich Micucci. Check out this Houdini themed pin.
Handcuff Lapel Pin:
A pair of handcuffs made of copper and plated with nickel. What is different about these is that both sides of the pin have been stamped to look like the cuffs and since the second cuff is hanging by a chain link it will sway when you move.

Although not magic by nature Houdini made it a common magic prop and I am sure that the three escape artists on my newsletter list will jump at these!

Get one: HERE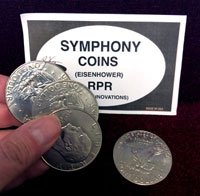 Symphony Coins:
The first few shipments of RPR's Quadruple magnetic coin sets sold out quickly. I just received another shipment. They also just added a third choice, US Quarters.

So now the Symphony Coins are available in Eisenhower Dollars, Kennedy Halves and in US Quarters.

Watch and buy: HERE

Along with the coins I also received a few more of their magnetic Polarity Cards.

Watch and buy: HERE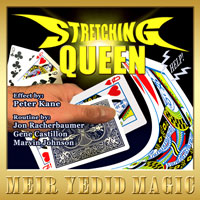 Stretching Queen:
My latest release is a quick, direct, and impossible looking routine where a Queen stretches to almost twice its length. Extremely easy to do and super clean.

I did not mention in the last newsletter that a magic legend makes an appearance on the trailer and in the tutorial. The tutorial also includes footage of another close-up legend performing the routine. Unfortunately, you will have to buy the trick to see who the second legend is.

Get it now before the free worldwide shipping expires.

Watch and buy: HERE

Until next time, Meir
Warehouse Finds, Limited Quantities & Great Prices:
This is part of a large Joker Magic inventory I purchased recently. Many of these items are no longer being manufactured and the ones that are will not be restocked. Once they are gone… they are gone!
Still Available:
►Preferred: HERE
►Pass Through Deck: HERE
►Giant Domino: HERE
►Hit The Jackpot: HERE
►Fully Packed: HERE
►BRB Dice: HERE
►Mobile Printer: HERE
►Clone Cube: HERE
►Cube 4 You: HERE
►Ultimate Change: HERE
►Chameleon Deck: HERE
►Boomerang Cards: HERE
►Inexhaustible Pack Of Cards: HERE
►Chinese Coin Bending: HERE
►Color Changing Gum: HERE
►Gum Game: HERE
►Magnetic Domino: HERE
►Jumbo Chinese Coin Color Change: HERE
►Vanishing Magnetic Mini Deck: HERE
►Ring On A Rope: HERE
►Silk Cube: HERE
►Mystic Wand: HERE
►Plexiglass Prediction: HERE
Stay safe,
Meir
NY COIN MAGIC SEMINAR 6-VOLUME DVD SET
MORE INFO & BUY: HERE

Dr. Michael Rubinstein, David Roth, Michael Gallo, Geoff Latta and their many friends, who also happen to be the the best creators and performers of magic with coins, showcase and teach the art of coin magic.

16 volumes, 17 DVDs (+1 bonus disc), 18-performers, 250+ routines and techniques, on 36+ hours of video. The DVDs also contain bonus features, panel discussions, historical discussions, lectures, workshops, hidden bonuses, guest appearances and much more.

RUBINSTEIN RATTLE PURSE
MORE INFO & BUY: HERE

This is a very special coin purse that is hand-made in Italy using fine Italian leather and contains real coins inside a hidden compartment that are used to create a perfect jingling sound when the purse is shaken… even when it is empty.

The purse is used to add an audible element to your coin magic. Simple things like shaking the purse after pretending to put coins inside, solidifies the fact that the coins must be inside because you can hear them inside. The same sound can be used to prove the arrival of vanished coins before any sneaky stuff is done.

POLARITY CARDS
MORE INFO & BUY: HERE

A set of five Bicycle playing cards (a Royal Flush) with magnets embedded in them which allows you to toss them from hand to hand as if they were a single card and then produce the rest. Using sleight of hand, you can make cards jump from hand to hand and even vanish them one by one.

The cards were made by hand using the thinnest and strongest magnets (for their size). The overall thickness of the five-card stack is around ten cards.
MAGICIAN BADGE
MORE INFO & BUY: HERE

This is a real Magician Badge that was fashioned on the badges used by law enforcement agencies around the world. It adds a level credibility to magicians while at the same time adding humor to your introductions. It is a great icebreaker.

The next time you walk up to strangers you can pull out the badge as you say your name and title of Magician. It causes a moment of panic followed by relief and laughter.
CAPITULATING QUEENS
MORE INFO & BUY: HERE

This routine has often been referred to as one of the best packet tricks. It has more visual impossibilities than most in its genre.

You cleanly show four queens, explaining that one of them is very special. The first three Queens that are selected are shown to have different colored backs.

The last Queen is cleanly shown to have a blue back as you explain it too is special. The cards are shown again and now they all have red backs except for the last Queen.

As a finale the four Queens are shown to have four different back designs and colors and they can even be handed for examination.
CATCH ME & WIN
MORE INFO & BUY: HERE

Gene Maze's fantastic chain routine combines the Fast & Loose or Endless Chain routines with the classic Three Card Monte and Three Shell Game scams. When the routine was originally published many top pros built their own sets and put it into their shows.

The object is for the spectator to pick the peg that catches. No matter how hard they try they can't find it. Even though you keep making it easier and giving them tips, they always fail. Of course, the secret lies in the fact that you have total control of whether the spectator wins or loses.
FAN OF CARDS LAPEL PIN
MORE INFO & BUY: HERE

A nice lapel pin with a hand that is fanning around thirteen cards. The pips in the cards have been finely enameled to show the red and black values and suits.

The overall size is around one-inch tall and wide. It is made of copper that has been plated with bright nickel, and then highlighted using low fill enamel to fill in the pips. This was struck using a recently found die that was designed and produced in 1945. It also includes a deluxe locking back. It is custom hand-made in New Jersey.
WONDER CARD
MORE INFO & BUY: HERE

You get two specially manufactured and gaffed credit cards which have been tricked to perform many different routines.

The seven routines explained: Fire Balance, Easy Money, Compact ATM, Bill Into Coins, Mental Bill Change, Illegal Money, and Safe Currency.

Comes with a gaffed credit card, a duplicate you can hand out for examination, and an online video tutorial.