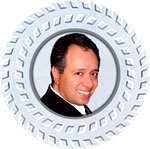 Meir's Muses
MyMagic eNewsletter #874
October 24, 2020
FIRST: I am continuing to ship your orders on a daily basis. Thank you for your continued support.

Was sad to hear of the passing of James "The Amazing" Randi (1928-2020) and Ken Klosterman (1933-2020).

I have known both men since I was very young, and both have been very kind and helpful to me. Both were larger than life and you can read and watch many obituaries and videos about them if you are not familiar with their lives.

One thing that I will never forget about Randi is that immediately after my car accident I received a very touching letter that was sent by registered mail (first time I got one of those) trying to cheer me up and encouraging me to keep going. I just re-read it and it was funny as well.

My first encounter with Ken was very memorable. He came to see my show in NYC and after the show asked me for an autograph, which was rare at that point in my life. But then it got weird. He asked me to write the date. So, I did. Then he asked me to write the time. So, I did.

But I had to ask, why he wanted the date and time. He explained that if I get into a car accident and die on the way home this will be a valuable autograph. I thought to myself (this guy is nuts). As I walk out of the theater and try to cross the street a very loud racing car sped by me and scared the crap out of me! I don't think it was Ken!

I just received a package from Alakazam with a routine by Liam Montier that I really like. I like the premise; I like the method and I like how simple and fooling it is. And it is now available in two versions: 3S/Sahara and JH/Caesars.
What Happens In Vegas:
The basic routine has you showing a deck with different casino backs on it and the spectator freely selects a face card and a casino back. Inside the card box is a Poker chip with the imprinted casino and playing card. Quick simple direct.

Watch and buy: HERE
I like this theme and it reminded me of a routine I put out a few years ago. I still have a few in stock. Check it out: HERE.

eBay:
13 Auctions ending on Sunday: HERE
232 Collectibles in the store: HERE

Stay safe, Meir

PS: Since nobody responded to the PS in the last newsletter, I decided that you don't deserve one this week!
GIGANTIC COMEDY PREDICTION
MORE INFO & BUY: HERE

This is an ideal stand-up routine with intrinsic situational comedy. Even if you are not a comedian the situational comedy that is built into the routine will always get you laughs. But not just laughs… The magic is strong and there is even a duel reality ending where the spectator and the audience experience two different effects and both are impactful!

Comes complete with a Gigantic Prediction Card (10.5" x 15") that is transformational, a set of Jumbo Forcing Cards (5" x 7"), and access to a 30-minute video tutorial featuring Meir Yedid, Jim Spinnato, Rick Wilcox, and George Schindler.
ESP FEELER CARDS
MORE INFO & BUY: HERE

This is a set of six ESP Symbol Cards (Rhine Cards) that have been manufactured with the "Feel A Color" principle build into them. This allows you to feel the orientation of the cards, even while they are inside envelopes.

They can be used in many ways and can reproduce routines commonly done with one-way cards… except these can be performed while you are blindfolded or with the cards behind your back.