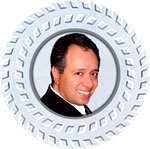 Meir's Muses
MyMagic eNewsletter #847
July 15, 2020
FIRST: I am continuing to ship your orders on a daily basis. Thank you for your continued support.
Creating trends and following trends are two strategies for success and following, improving, and reinventing your own ideas allows you to expand on your previous successes.

It is said that many people come up with their best ideas during their late teens and spend the rest of their lives expanding and improving on them.

Although a successful businessman once told me not to invest too much in fads, formats, and trends because by their very nature they will eventually expire.

He was my video duplicator and did not want to pivot into the DVD replication business. He told me that the future is in digital video compression. He downsized his business wrote and patented some compression algorithms and I believe won some Technical Oscars.

So, what is the right approach?

The real secret is that there is no best approach. If there was everyone would be using it.

Today I will introduce you to some new variants of what I offered you over the past few weeks.
Symphony Coins:
This popular RPR quadruple magnetic coin set was originally released in Halves and Dollars. They then added Quarters. They just started manufacturing the set using English Pennies. What is nice about the new set is they also milled the edges of the coins which makes them easier to palm.

I was also able to replenish my inventory, at the moment, all coin versions are available for immediate shipment.

Watch and buy: HERE.

I also received a supply of their Polarity Cards which are available in both red and blue backed Bicycle cards.

Watch and buy: HERE.
Knife Hot Rods:
Terry Broshears just sent me all of his remaining inventory of his Knife Hot Rods. In addition to the previously released endings you can now have knives that force Brown, Reddish Brown, Blue, and Stripped Brown. Once these are gone, I have no idea when and if I can get more since we have moved on to other projects.

Take a look at what is still available: HERE.
Slum Magic:
Many years ago, I purchased the remaining inventory from Danny Tsukalas' Macy's Magic Counter in New York City. There were 18 cases of mostly layperson magic manufactured in the 1950s and 60s. I sold a few of the items back then but never really opened the remaining ten cartons.

I decided to go through two of the boxes this weekend and list many of the items on eBay. What inspired me is the visit to a large magic collection of slum magic. I realized that I enjoyed looking at those more than the bigger more expensive and historical items. There is something familiar about the slum magic we started out with that puts a smile on our faces when we see it.
I have 66 items expiring on Sunday night on eBay. Some decks but mostly slum. It was educational going through all the stuff. For example, I never knew that C. Hemstedt from Brooklyn claimed to have created the Wonder Mouse!

I could not believe that someone I never heard of invented one of the bestselling magic tricks in history. I did some more research and found the following in one of his booklets, "Everybody knows my Mouse which I brought from Europe and of which I sold many hundreds of thousands…" Who knew?

I have some decks but mostly slum. All auctions will expire on Sunday evening.

A direct link to the auction items is: HERE.

Stay safe, Meir

PS: If I have offended any collectors by referring to their collection as "Slum" I apologize.
FUSION COINS
MORE INFO & BUY: HERE

Two coins are examined by your friends (a Quarter and a Penny) as you explain the different metals they are made of.

You then place the Penny on top of the Quarter and after a little squeeze the penny sinks into the quarter and is fused inside. The odd new coin can then be examined.

You pick up the coin, give it a little shake and the penny falls out leaving everything examinable and ordinary.
STRETCHING QUEEN
MORE INFO & BUY: HERE

This is a beautifully clean handling of Peter Kane's brilliant Elongated Lady effect.

You begin by removing three cards from your deck. The Queen of Hearts and the two black nines. All the cards are cleanly shown as you place the Queen face up between the two face down nines. In an eerie visual the Queen begins to stretch to one-and-a-half times its length for an impossible visual.

The Queen is then shrunk back to its normal size and all three cards are cleanly shown on both sides. The Queen can then be given out as a souvenir.
RUBINSTEIN RATTLE PURSE
MORE INFO & BUY: HERE

This is a very special coin purse that is hand-made in Italy using fine Italian leather and contains real coins inside a hidden compartment that are used to create a perfect jingling sound when the purse is shaken… even when it is empty.

The purse is used to add an audible element to your coin magic. Simple things like shaking the purse after pretending to put coins inside, solidifies the fact that the coins must be inside because you can hear them inside. The same sound can be used to prove the arrival of vanished coins before any sneaky stuff is done.
NY COIN MAGIC SEMINAR
16-VOLUME DVD SET
MORE INFO & BUY: HERE

Dr. Michael Rubinstein, David Roth, Michael Gallo, Geoff Latta and their many friends, who also happen to be the the best creators and performers of magic with coins, showcase and teach the art of coin magic.

16 volumes, 17 DVDs (+1 bonus disc), 18-performers, 250+ routines and techniques, on 36+ hours of video. The DVDs also contain bonus features, panel discussions, historical discussions, lectures, workshops, hidden bonuses, guest appearances and much more.