Meir's Muses
MyMagic eNewsletter #1,079
February 4, 2023
When I moved to New Jersey in 1995 my expenses skyrocketed and was looking to raise some extra income. Two of my friends came to the rescue. Harry Lorayne hired me to layout the last five years of Apocalypse and Mark Setteducati put me on a retainer to consult on his magic and toy projects. At the time he was working on the Creepy Magic line and the Electronic Talking Magic Works.
Mark basically did 99% of the work and depended on his team for additional tweaks, variations, and ideas. So, some of my thinking appears in those projects.
Fast forward 28 years and Mark mentioned that he had some Talking Magic Works in storage that he wanted me to offer you.
We discussed the best way to do it and we came up with some good ideas:
We shot a 20-minute trailer that explains how all the tricks work. Watch it: HERE
We shot an additional 40-minute tutorial with advanced handlings and the many ideas and routine improvements that Mark came up with since their release. Access to that tutorial will be included with every purchase.
►Talking Magic Works:
In 1995 Mark Setteducati in conjunction with Milton-Bradley released his most ambitious magic creations: The Electronic Talking Magic Works. These three interactive magic tricks used the latest technologies to achieve self-working, impossible magic. But not only did the props do all the secret work for you but they also talked to you and your audience.
Comes with complete sets of the three Talking Magic Works (Spirit In The Coffin, Secret Of The Sphinx, and Guardian Of The Grave), special set of grave cards, and access to a 40-minute video tutorial.
Watch and buy: HERE
►Wonder Wallet:
A quick visual where you produce a real bill you can give away as a gift or use for a magic trick.
You display a plastic folder with a square hole in the middle which you can see through. With a quick shake a real bill appears in the hole.
You turn the folder over and show the bill through three windows. You can then cleanly pull out the bill and give it away.
Watch and buy: HERE
►BACK IN STOCK:
Keeping with the technology theme I just received a small shipment of the Phantom Rainbow Cards with new force cards available in both the black and mirror versions.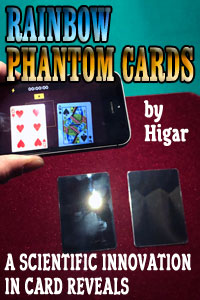 ►Rainbow Phantom Card:
This is one of the most ingenious technologies that has been applied to magic. It was created and patented by Higar and has already been released in many different forms.
My favorite two playing card variants are the Black Rainbow Phantom Card and the Mirror Rainbow Phantom Card. Both work the same way. The card is examinable, but when photographed, the photograph in the spectator's smart phone appears to have turned into the spectator's selection.
Works with any phone or camera that has a flash. Does not require any apps or additional technology. Everything is examinable.
Watch and buy: HERE
►OUR LATEST RELEASE:
►Countdown Coins:
Many years ago, Rocco came up with a coin gimmick that can be used to display four US Quarters while instantly changing to three Quarters, then two, and finally one Quarter, it can also be shown in reverse, going from one to four Quarters. The displays can be made one handed which allows for a very clean in the hand's coins across.
The utility device can be used for many different routines, both stand-up and close-up. The tutorial includes easy, intermediate, and advanced coin routines that are taught by Rocco Silano, Dr. Michael Rubinstein, and Meir Yedid.
Watch and buy: HERE
►UPCOMING APPEARANCES:
►Saturday Feb 11, 4pm: Appearing in Comix at the Mohegan Sun Casino in Connecticut. Tickets: HERE
►Sunday Feb 12, 4pm: Appearing in Comix at the Mohegan Sun Casino in Connecticut. Tickets: HERE
Stay happy, Meir
PS: Next week the new season of Masters Of Illusion begins airing on the CW. I understand that three of my appearances will be used. Including encores, you will be able to see me on TV for 6 out of the next 18 weeks!
"Any hermit can be a stamp collector, a model ship builder, or a detective story reader. But for those who enjoy the company and conversation of friends, there is no hobby so satisfying, so utterly and literally wonderful as that of magic."
…David Robbins (Practical Magic, 1953)