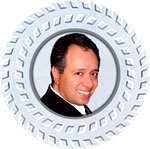 Meir's Muses
MyMagic eNewsletter #892
January 2, 2021
I am a fan of the card magic of Jack Carpenter. But not just his magic I always pay attention to people who have a lifelong passion for what they do and are happy to enthusiastically share it with all who are interested.

When Jamie Masterson contacted me recently about carrying a project that he and Jack have been working on I jumped at the opportunity. And was even able to get Jamie to autograph all the copies.
Shadow & Shake:
Here is what Jack Carpenter wrote in the Introduction: "This visually explosive extrapolation never fails to evoke audible gasps with lay audiences and is one of the most satisfying sequences I perform. It hits all the notes that are important to me: The effect is clear and concise, can be performed surrounded, is gimmickless, and totally impromptu."

The basic routine is a three-phase transposition routine that looks and feels impossible. But it does not take 44 pages to explain one card trick. What makes this book special are the many additional optional climax endings, professional performance tips, psychology, advanced fingertip visuals, and much more.

The book teaches alternate handlings, options and sequences that are interchangeable within the body of the main routine based on a person's skill level. This allows you to customize your own routine based on what feels most comfortable.

Watch and buy: HERE

eBay:
Auctions ending on Sunday night include Slum magic, cards, and books.
►25 Auctions ending on Sunday: HERE
►236 Collectibles in the store: HERE

Stay safe, Meir

PS: I hope all of you had a nice and relaxing couple of days during this year's New Year celebrations.
GIGANTIC COMEDY PREDICTION
MORE INFO & BUY: HERE

This is an ideal stand-up routine with intrinsic situational comedy. Even if you are not a comedian the situational comedy that is built into the routine will always get you laughs. But not just laughs… The magic is strong and there is even a duel reality ending where the spectator and the audience experience two different effects and both are impactful!
SMILEYS
MORE INFO & BUY: HERE

You start by explaining that there is an old expression that "people wear their emotions on their sleeve", but magicians wear their emotions on their coins!

You draw a sad face on the face of a half dollar and then… to make the coin feel better you tickle the coin, and it begins smiling when the sad face changes to a happy one! Another tickle, and the coin changes to a yellow smiley face! One last tickle, and the smiley face becomes a big smiley face, bringing a big smile to everyone.