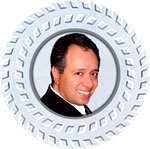 Meir's Muses
MyMagic eNewsletter #818
March 14, 2020
What a difference a few days make. The last newsletter was about the upcoming Magic Roadshows. Unfortunately, they had to be cancelled.
The other day when I went out to get some groceries (not toilet paper) I felt like I was in a Zombie movie. The intensity of the people around me was very strange.

Yesterday I attended the online Board Of Director's meeting regarding next month's Obie's 4F convention. We were about to celebrate our 50th anniversary. Unfortunately, we had to cancel the convention. We looked at postponing it by a few months, but the logistics did not allow it.

The MAWNY Convention will likely have to be downsized or cancelled which means I will not be able to make it this year… their 75th Anniversary.

My lecture on the 29th at Mingus was also postponed to sometime in the future.

So, like many performers I will be home for the next few months. The good news is that I should have the time to finish the many projects I have been working on. Possibly seven new products by Magic Live!
Sensi-Mental:
Richard Mark and Marc Salem recently combined their talents to produce a small booklet with seven mentalism routines. The theme of the presentations is of having superhuman skills and senses.

Routines include: Not Your Lazy Man, 376, You Can Handle The Truth, Tic-Tac Tell Revisited, A Change In Change, A Touch Of Color, and
Eidetic Reflection.

And since one of the Marcs lives near me I had both authors autograph every single copy.

More info and buy: HERE
Back In Stock:
Just got a few more of Doug Ries' beautiful Sum It Up made of fine woods and can be used to show-off your superhuman mathematical skills.

Get one: HERE

Miser's Miracle:
Oh… Jerry Andrus' Miser's Miracle download will go up in price on Tuesday. And best of all you get to watch Doug Henning perform it on the trailer.

Watch and buy: HERE
Warehouse Finds, Limited Quantities & Great Prices:
This is part of a large Joker Magic inventory I purchased recently. Many of these items are no longer being manufactured and the ones that are will not be restocked. Once they are gone… they are gone!

►Giant Domino:
A giant plastic Domino is shown as a prediction of 4:4. A spectator selects a domino card from a bag full of different ones. They select 6:6. The 4:4 on your prediction visually transforms to match their selection.

Info and buy: HERE

►Color Changing Hexagon:
A nice version of the classic Hexaflexagon where you get a bunch of color changes. From Red and Yellow to Blue, Green, Orange, and Purple.

Info and buy: HERE
Still Available:
►Hit The Jackpot: HERE
►Fully Packed: HERE
►Twin Cards: HERE
►BRB Dice: HERE
►Diamond Extra: HERE
►Mobile Printer: HERE
►Clone Cube: HERE
►Cube 4 You: HERE
►Ultimate Change: HERE
►Chameleon Deck: HERE
►Boomerang Cards: HERE
►Sharpie Wonder: HERE
►Penhenge Sharpie: HERE
►Inexhaustible Pack Of Cards: HERE
►Chinese Coin Bending: HERE
►Color Changing Gum: HERE
►Gum Game: HERE
►Find The Red Card: HERE
►Magnetic Domino: HERE
►Jumbo Chinese Coin Color Change: HERE
►Vanishing Magnetic Mini Deck: HERE
►Ring On A Rope: HERE
►Silk Cube: HERE
►Mystic Wand: HERE
►Plexiglass Prediction: HERE
►Chinese Coin Transformation: HERE

Stay safe, Meir
Upcoming Live Appearances:
►POSTPONED: Mar 29: Lecturing at Mingus Magic in Reading, PA. Info: HERE.
►CANCELLED: Apr 5: Exhibiting at the Real Magic Roadshow in Boston, MA. Info: HERE.
►CANCELLED: Apr 22-25: Performing and Exhibiting at Obie's 4F Convention in Batavia, NY.
►CANCELLED: ►Apr 26: Exhibiting at MAWNY in Batavia, NY. Info: HERE.
CATCH ME & WIN
MORE INFO & BUY: HERE

Gene Maze's fantastic chain routine combines the Fast & Loose or Endless Chain routines with the classic Three Card Monte and Three Shell Game scams. When the routine was originally published many top pros built their own sets and put it into their shows.

The object is for the spectator to pick the peg that catches. No matter how hard they try they can't find it. Even though you keep making it easier and giving them tips, they always fail. Of course, the secret lies in the fact that you have total control of whether the spectator wins or loses.
MAGICIAN BADGE
MORE INFO & BUY: HERE

This is a real Magician Badge that was fashioned on the badges used by law enforcement agencies around the world. It adds a level credibility to magicians while at the same time adding humor to your introductions. It is a great icebreaker.

The next time you walk up to strangers you can pull out the badge as you say your name and title of Magician. It causes a moment of panic followed by relief and laughter.
PING PONG BALL VASE
MORE INFO & BUY: HERE

A beautiful hand spun Ping Pong Ball Vase made of a single piece of exotic wood. It comes with a Ping Pong ball and a matching shell (ball vase type).

This is one of the few Ball Vases that uses a recognizable object, or what is termed an organic prop. Since the popularity of Beer Pong, that uses the same balls, has far surpassed the popularity of Table Tennis this has become a very common object.
CROCHET SPONGE BALLS
MORE INFO & BUY: HERE

These are hand-made crochet sponge balls. Similar to the crochet balls used for the Cups & Balls and Chop Cup routines except that instead of cork on the inside there is a sponge ball.
They look just like the cork balls but handle much easier and can be manipulated in many ways that would be impossible with cork balls. They can easily be manipulated using most techniques invented for solid balls and sponge balls. Can also be used for the Benson Bowl Routine or even a sponge ball routine.