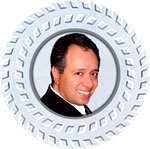 Meir's Muses
MyMagic eNewsletter #807
February 5, 2020
For the past few years I have been selling Higar's brilliant Rainbow Phantom Cards and its many variants at conventions. It has been very popular, and I have come up with several original routines and presentations for the ingenious scientific method behind it. Higar patented his discovery and this is one of the few times, in my lifetime, that the adage by Arthur C. Clarke is true, "Any sufficiently advanced technology is indistinguishable from magic."

Thanx to Daisuke Seo I am now able to also advertise it and offer it to you.  I made a short instructional video that explains how to use it and some ideas with it. A link to the video will be supplied with every purchase.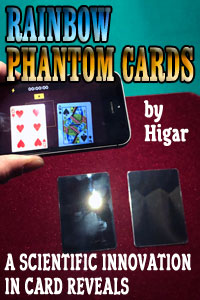 Rainbow Phantom Cards:
My favorite two playing card variants are the Black Rainbow Phantom Card and the Mirror Rainbow Phantom Card. Both work the same way. The card is examinable, but when photographed, the photograph in the spectator's smart phone appears to have turned into the spectator's selection.

This does not work the same way as other versions. It is light years ahead of other technologies. The flash on the spectator's phone activates things but it cannot be seen by the naked eye. Only inside the phone.

The strongest and most important part of all the routines is that you are using the spectator's phone to take the pictures. The spectator's face is always framed with the reveal. The spectator will never delete the picture since nobody deletes pictures of themselves. And most importantly every time they look at the picture, they will be reminded of you and your performance.

Watch and buy: HERE.
Although I do have a bunch of them in stock, I will not be able to get more until the end of February.

I also plan on releasing a video download that teaches three of my routines. These are the routines I perform for magicians at conventions, showcases, and even for laypeople. Hopefully before the end of the month.

Until next time, Meir
Upcoming Live Appearances:
►Feb 22-25: Attending the New York Toy Fair in New York City.
►Feb 23: Attending the USPC Party in New York City.
►Feb 23: Attending the annual Inventor's Party in New York City.
►Mar 7: Exhibiting at NEMCON in Farmington, CT. Info: HERE.
►Mar 29: Lecturing at Mingus Magic in Reading, PA. Info: HERE.
►Apr 5: Exhibiting at the Real Magic Roadshow in Boston, MA. Info: HERE.
MAGICIAN BADGE
MORE INFO & BUY: HERE

This is a real Magician Badge that was fashioned on the badges used by law enforcement agencies around the world. It adds a level credibility to magicians while at the same time adding humor to your introductions. It is a great icebreaker.

The next time you walk up to strangers you can pull out the badge as you say your name and title of Magician. It causes a moment of panic followed by relief and laughter.
PING PONG BALL VASE
MORE INFO & BUY: HERE

A beautiful hand spun Ping Pong Ball Vase made of a single piece of exotic wood. It comes with a Ping Pong ball and a matching shell (ball vase type).

This is one of the few Ball Vases that uses a recognizable object, or what is termed an organic prop. Since the popularity of Beer Pong, that uses the same balls, has far surpassed the popularity of Table Tennis this has become a very common object.
MIRROR MIRACLE
MORE INFO & BUY: HERE

This is a quick routine using four cards that appear to be all the same, then magically transform to look the same on both sides and finally all four cards are shown to have mirror faces–It's all done with mirrors–Of course.

Includes a relaxed, humorous presentation and can be performed with a freely selected and signed card.
CATCH ME & WIN
MORE INFO & BUY: HERE

Gene Maze's fantastic chain routine combines the Fast & Loose or Endless Chain routines with the classic Three Card Monte and Three Shell Game scams.

The basic routine starts out with a wooden stand holding three pegs or posts. A chain is then wrapped around all the pegs as you explain that when the chain is pulled one peg will always catch while the other two will not. If they pick the peg that catches, they win.

No matter how hard they try they can't find it. Even though you keep making it easier and giving them tips, they always fail or win. You have total control.