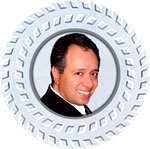 Meir's Muses
MyMagic eNewsletter #854
August 8, 2020
FIRST: I am continuing to ship your orders on a daily basis. Thank you for your continued support.
I wrote an entire newsletter explaining why this one was skipped because the electric company kept delaying when I will get my service back, but the good news is that everything is now back to normal (except my refrigerator, which is almost empty after throwing away all the spoiled food).

As you may remember I recently purchased the rights to some of Gary Plants' card items and Michael Rubinstein's coin items. I still have six more items to release from those lines. I also finalized the purchase of some of the coin magic of Christian Scherer from Switzerland. In addition to the rights I also acquired the remaining inventory.
The first trick I am offering you is his Coin Copier: The World's Smallest 3D Copy Machine.

It is an Okito Box type of routine that is unlike anything you have seen before. These are major gimmicks that do almost all the work for you.

I only received six complete sets, five of which I can offer to you. I have no idea what the version that I will eventually put out will look like or cost.

I have been messing around with it and it is kind of fun to do knowing and feeling what is going on in the box when the coins change. I am offering it to you for what the original selling price was.
Coin Copier:
A little box is introduced with four different half-dollar size coins inside. A Swiss 5 Franc coin, an English Penny, a Kennedy Half, and a Japanese coin.

You explain that using the box you can turn all the other coins into duplicates of the Japanese coin. And you do just that, one at a time the coins turn into Japanese coins. Oh… Everything is examinable at the end!

It comes complete with all the coins, gaffs, box, and written instructions. You can watch a video of Christian performing his routine with his original presentation on the site. Although it is not in English you should have no problem following the presentation and he will likely fool you with the method.

Watch and buy: HERE
Unique Chinese Coins:
I was going through all the odds and ends at the warehouse that I never had a chance to offer you. These are all Chinese Coins in various sizes, colors, and gaffs. Will offer a few today and the rest over the next few weeks. I only have between one and six of each and most have been discontinued. Get it now if it interests you.
►US Dollar Size Chinese Black/Gold Coin Set: HERE
►US Dollar Size Chinese Silver Coin Set: HERE
►Blue Chinese Coin Set: HERE
►Black/White Chinese Coin Set: HERE
Ebay:
Although I did not get a chance to add any new items, there are still 64 eBay auctions expiring on Sunday night. A combination of very rare slum magic (Adams in particular) and hard to find decks of cards.

A direct link to the auction: HERE

Stay safe, Meir

PS: Although 72 hours without electricity and internet may not be fun, I did get a chance to read some magic books and streamline two card routines for my personal use.
ESP FEELER CARDS
MORE INFO & BUY: HERE

This is a set of six ESP Symbol Cards (Rhine Cards) that have been manufactured with the "Feel A Color" principle build into them. This allows you to feel the orientation of the cards, even while they are inside envelopes.

They can be used in many ways and can reproduce routines commonly done with one-way cards… except these can be performed while you are blindfolded or with the cards behind your back.
FUSION COINS
MORE INFO & BUY: HERE

Two coins are examined by your friends (a Quarter and a Penny) as you explain the different metals they are made of.

You then place the Penny on top of the Quarter and after a little squeeze the penny sinks into the quarter and is fused inside. The odd new coin can then be examined.

You pick up the coin, give it a little shake and the penny falls out leaving everything examinable and ordinary.
STRETCHING QUEEN
MORE INFO & BUY: HERE

This is a beautifully clean handling of Peter Kane's brilliant Elongated Lady effect.

You begin by removing three cards from your deck. The Queen of Hearts and the two black nines. All the cards are cleanly shown as you place the Queen face up between the two face down nines. In an eerie visual the Queen begins to stretch to one-and-a-half times its length for an impossible visual.

The Queen is then shrunk back to its normal size and all three cards are cleanly shown on both sides. The Queen can then be given out as a souvenir.
CUSTOMIZABLE TWISTS
MORE INFO & BUY: HERE

This is an easy Twisting The Aces routine with a kicker ending that can be customized to promote yourself, a customer you are performing for, or just about anything you can think of.

The basic routine involves the four Aces which are displayed face up. One at a time the Aces turn face down and face up until the very end where a surprise ending comes into play. The backs of the Aces have changed color and reveal a message that you customized for the occasion.

Oh… and the best part is that at the end all the Aces are examinable and can be given out as souvenirs!