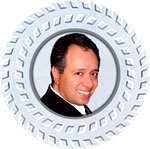 Meir's Muses
MyMagic eNewsletter #809
February 12, 2020
I received and have a few of the Deadly Marked Decks in stock at the moment. They were received on Monday and most of them sold within an hour. Thanx.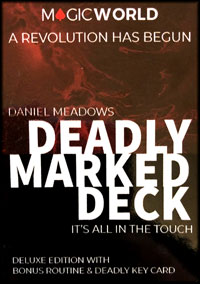 When my friends ask me what the markings are, I found that the easiest way to explain it is that it works like a Braille deck, except without the Braille. The tactile markings do not add any thickness to the deck but by running your thumb across the back of any card you are able to figure out what is its value and suit.

Get your Deadly Deck: HERE.
The other two items that arrived with the decks already sold-out. Thanx, again.

I hope to get another shipment of all three items by the end of the month.

I also just received a shipment of a new item that I saw at the SAM Convention that sold-out. It arrived from Hungary. This is a simple trick that fooled me, even though I was aware of the principle. Will hopefully be able photograph it and write about it in the Saturday Newsletter.

But first…
Warehouse Finds. Limited Quantities:
This weekend I picked up a carload of Joker Magic products. Of the more than 50 different items, many of them are difficult to find in the US. If you are looking for anything in particular, let me know, I might have it. Also, since I got a good deal on the lot, I can pass those savings to you. Here are the first five items on offer:

Wandering Coins:
You get four Dollar size Chinese coins and a matching expanded shell. These can be used for many of the existing coin routines that use those types of gaffs. You also get an instructional DVD with a coins across routine.

Info and buy: HERE

Chinese Set:
You get a very special set of Dollar size coins. It looks like a single Chinese coin but can expand into four coins. It is basically a solid coin with three expanded shells that nest over each other. You also get two routines you can do with the set.

Info and buy: HERE

Chinese Coin Transformation:
You get a Dollar size Chinese coin with a matching expanded shell and a matching Half-Dollar size coin. You are taught how to produce a coin, split it into two and to make one of them shrink.

Info and buy: HERE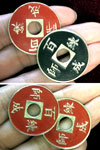 Double Sided Chinese Coin Set:
You get two Half-Dollar size Chinese coins, a red/black coin and a matching red coin.

It is a perfect set for coin transpositions and color changes. No instructions.

Info and buy: HERE.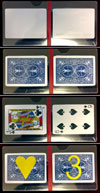 Plexiglass Prediction:
I have a Poker size and a Jumbo stage size of this routine. Three cards are selected and are found to be predicted in a previously shown Plexiglass set of rubber banded plates that were sealed with blank cards inside them.

Info and buy: HERE.

I am planing on slowly adding the items to the website at a rate of a few every week. Keep in mind that I have very few of each item. So, don't hesitate.

Until next time, Meir
Upcoming Live Appearances:
►Feb 22-25: Attending the New York Toy Fair in New York City.
►Feb 23: Attending the USPC Party in New York City.
►Feb 23: Attending the annual Inventor's Party in New York City.
►Mar 7: Exhibiting at NEMCON in Farmington, CT. Info: HERE.
►Mar 29: Lecturing at Mingus Magic in Reading, PA. Info: HERE.
►Apr 5: Exhibiting at the Real Magic Roadshow in Boston, MA. Info: HERE.
MAGICIAN BADGE
MORE INFO & BUY: HERE

This is a real Magician Badge that was fashioned on the badges used by law enforcement agencies around the world. It adds a level credibility to magicians while at the same time adding humor to your introductions. It is a great icebreaker.

The next time you walk up to strangers you can pull out the badge as you say your name and title of Magician. It causes a moment of panic followed by relief and laughter.
PING PONG BALL VASE
MORE INFO & BUY: HERE

A beautiful hand spun Ping Pong Ball Vase made of a single piece of exotic wood. It comes with a Ping Pong ball and a matching shell (ball vase type).

This is one of the few Ball Vases that uses a recognizable object, or what is termed an organic prop. Since the popularity of Beer Pong, that uses the same balls, has far surpassed the popularity of Table Tennis this has become a very common object.
MIRROR MIRACLE
MORE INFO & BUY: HERE

This is a quick routine using four cards that appear to be all the same, then magically transform to look the same on both sides and finally all four cards are shown to have mirror faces–It's all done with mirrors–Of course.

Includes a relaxed, humorous presentation and can be performed with a freely selected and signed card.
CATCH ME & WIN
MORE INFO & BUY: HERE

Gene Maze's fantastic chain routine combines the Fast & Loose or Endless Chain routines with the classic Three Card Monte and Three Shell Game scams.

The basic routine starts out with a wooden stand holding three pegs or posts. A chain is then wrapped around all the pegs as you explain that when the chain is pulled one peg will always catch while the other two will not. If they pick the peg that catches, they win.

No matter how hard they try they can't find it. Even though you keep making it easier and giving them tips, they always fail or win. You have total control.