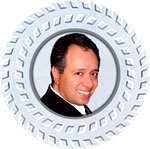 Meir's Muses
MyMagic eNewsletter #810
February 15, 2020
I have noticed over the years that there are two hidden methods that fool me more that any other. Thread and math. Of course, the methods must be disguised and often wrapped with subtleties.

And one of those methods was used to fool me again. This time by Astor and his latest release, Hidden Cash.

I walked up to his booth at the SAM Convention to see what's new and he showed me something that seemed so simple.

He showed me three plastic sleeves that are a little larger than a US bill and a $20 bill. He turned around and had me put the bill in any of the sleeves. Then I switched the two other sleeves and turned everything face down. As soon as he turned around, he picked and eliminated one of the empty sleeves. So far, I was familiar with the principle involved.

But then he told me to take the two remaining sleeves and mix them up behind my back and bring them forward when I was done. He still knew which sleeve was empty and which had the money.

Even though I was familiar with what was happening I could not backtrack the second phase. And I put the bill in the worst possible outcome. If I put it in the middle a miracle would have occurred.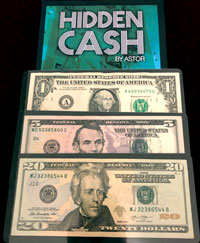 I immediately said you could present it as a reverse monte routine where if you can't find the money, they get to keep it. Of course, you don't want to tell them that upfront since they will try to mess you up.

But there are a lot of possibilities with this. The main routine taught has you using three different bills and you tell them which one is where.

The price might seem high based on what you are getting but Astor is an expert with the manufacture of plastics and if someone else had to make the sleeves it would cost much more.

The above was written before I got a text from Astor explaining a new routine he came up with. I think it is a brilliant and a new use for the principle. Your friend puts three different bills in the sleeves and thinks of one of them. As soon as you turn around you name what is in each sleeve and tell them which bill, they are thinking of. No fishing, no nothing, just a simple principle and a cool subtlety. Oh, and he will be adding the new routine to the video instructions that are online. It should be added within 1-2 weeks.

Watch and buy: HERE.
Oh, I should mention that the current video tutorial is over explaining how the principle works, it is simple and direct if you don't care to know the math and the combinations. Don't let that scare you.
Warehouse Finds, Limited Quantities & Great Prices:

►Jumbo Chinese Coin Color Change:
A very nicely made gimmicked jumbo Chinese coin that can be used for a triple color change and can be handed out for examination at the end.

Info and buy: HERE

►Chinese Coin Vision:
A set of half-dollar sized Chinese coins that can be used for many different routines because of the color combinations and special gaffs.

Info and buy: HERE

►Vanishing Magnetic Mini Deck:
This is a mini Bicycle deck that vanishes inside a plastic case. The card box can be opened to show a full deck inside, and a card can even be slid out.

Info and buy: HERE

►Ring On A Rope:
This is a washer and shell that is based on the classic Jardin Ellis Ring. You can do many of the coin off rope routines and even coin shell routines with it.

Info and buy: HERE

►Sharpie Wonder:
A set of gaffed interchangeable sharpie parts that allow you to do many different routines and visuals. Different from the Cornelius magnetic system.

Info and buy: HERE

►Silk Cube:
Kind of like the silk in egg routine but with a colored plastic cube. A nice feature is that after the silk is put inside, there is a magnetic locking lid.

Info and buy: HERE

►Mystic Wand:
A small magic wand is pushed into a cube with a hole in it. The wand seems to vanish until it starts emerging from the other side but is now a different color.

Info and buy: HERE
Still Available:
►Plexiglass Prediction: HERE
►Wandering Coins: HERE
►Chinese Coin Transformation: HERE

Until next time, Meir
Upcoming Live Appearances:
►Feb 22-25: Attending the New York Toy Fair in New York City.
►Feb 23: Attending the USPC Party in New York City.
►Feb 23: Attending the annual Inventor's Party in New York City.
►Mar 7: Exhibiting at NEMCON in Farmington, CT. Info: HERE.
►Mar 29: Lecturing at Mingus Magic in Reading, PA. Info: HERE.
►Apr 5: Exhibiting at the Real Magic Roadshow in Boston, MA. Info: HERE.
MAGICIAN BADGE
MORE INFO & BUY: HERE

This is a real Magician Badge that was fashioned on the badges used by law enforcement agencies around the world. It adds a level credibility to magicians while at the same time adding humor to your introductions. It is a great icebreaker.

The next time you walk up to strangers you can pull out the badge as you say your name and title of Magician. It causes a moment of panic followed by relief and laughter.

PING PONG BALL VASE
MORE INFO & BUY: HERE

A beautiful hand spun Ping Pong Ball Vase made of a single piece of exotic wood. It comes with a Ping Pong ball and a matching shell (ball vase type).

This is one of the few Ball Vases that uses a recognizable object, or what is termed an organic prop. Since the popularity of Beer Pong, that uses the same balls, has far surpassed the popularity of Table Tennis this has become a very common object.
MIRROR MIRACLE
MORE INFO & BUY: HERE

This is a quick routine using four cards that appear to be all the same, then magically transform to look the same on both sides and finally all four cards are shown to have mirror faces–It's all done with mirrors–Of course.

Includes a relaxed, humorous presentation and can be performed with a freely selected and signed card.
CATCH ME & WIN
MORE INFO & BUY: HERE

Gene Maze's fantastic chain routine combines the Fast & Loose or Endless Chain routines with the classic Three Card Monte and Three Shell Game scams.

The basic routine starts out with a wooden stand holding three pegs or posts. A chain is then wrapped around all the pegs as you explain that when the chain is pulled one peg will always catch while the other two will not. If they pick the peg that catches, they win.

No matter how hard they try they can't find it. Even though you keep making it easier and giving them tips, they always fail or win. You have total control.