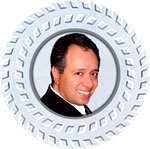 Meir's Muses
MyMagic eNewsletter #858
August 22, 2020
FIRST: I am continuing to ship your orders on a daily basis. Thank you for your continued support.
I recently came across a toy I never knew existed. It is a spinning top with numbers one through six on top. The neat thing is that by holding the Top with the number facing down and pressing the bottom it locks that number into place and when you spin the top it lands with that number down.

It is basically a simple programable spinning top. I liked it and came up with a gambling themed routine. My plan was to re-brand it, include a layout, 24 fake $100 bills and online instructions.

The first step was to purchase all the remaining inventory that was at the manufacturer's warehouse. The second step was to do all the work…

I decided not to put it out. Instead I will teach you the basics of the routine and let you buy the original toy for a fraction of what the finished product would have cost.

The package comes with the programable top and a regular die. You will need to make a layout like the one used in Chuck-A-Luck games as pictured. Here is the routine:
Top To Bottom Scam
Let me tell you about this ancient gambling game that was very popular in Pubs and Bars worldwide. The original used this piece of cloth and a single die. It was a simple game like Roulette. You would put the money on one of the numbers, roll the dice, and if your number came out you doubled your money. It had awfully bad odds and became extinct.

The next version was much fairer. Six people would put their money on different numbers and who ever won got all the money. But then some dice cheats got involved and it ended.

You demonstrate the unfairness of the dice version with a die and one of the hundreds.

The next incarnation used a spinning top and seemed to be much fairer. Let's play.

I will start you off with $1,200. Here are twelve one-hundred-dollar bills (you can give the spectators twelve singles, poker chips, or candy to bet with if you like).

Here is a summary of the phases:

1) You explain that to make this a fair game you should each pick three of the numbers. You let the spectator put three $100 bills one on each of three numbers. You or he roll the top and he loses.

2) To be nice and give the spectator a chance to win back the money you let them pick four of the numbers by placing the bills on their selections. And they once again lose.

3) You explain that you really want them to win and feel the joy of winning and will let them pick five of the numbers by placing bills on their selections and leave just one number for you. Of course, when the Top is spun you win and get all the money.

That is the basic routine that I like because it fits my flippant performing style but you can present it anyway you like with the spectator winning the money or even have two people playing each other. You don't have to follow my thoughts; you may do with it as you wish.
Forcing Top Toy:
There are two things in the package. A plastic spinning top (around 1.75 x 1.5-inches) that is programable so you can control which number it will stop spinning at, a regular die and basic written instructions.

Get one: HERE
You may recognize the structure of the routine. It is like the one I use with my favorite trick of that genre: Gene Maze's Catch Me & Win!

The Magic Graveyard book I offered in my last newsletter sold-out amazingly fast. Al agreed to autograph another case for me, and it should get here on Tuesday. If you don't want to miss out this time please sign up for notifications: HERE

You can still watch the Karrell Fox cemetery tour: HERE

Stay safe, Meir

PS: I did not give up on this trick. I might look at making the props out of metal or a more authentic material and release it at some point in the future.
ESP FEELER CARDS
MORE INFO & BUY: HERE

This is a set of six ESP Symbol Cards (Rhine Cards) that have been manufactured with the "Feel A Color" principle build into them. This allows you to feel the orientation of the cards, even while they are inside envelopes.

They can be used in many ways and can reproduce routines commonly done with one-way cards… except these can be performed while you are blindfolded or with the cards behind your back.
FUSION COINS
MORE INFO & BUY: HERE

Two coins are examined by your friends (a Quarter and a Penny) as you explain the different metals they are made of.

You then place the Penny on top of the Quarter and after a little squeeze the penny sinks into the quarter and is fused inside. The odd new coin can then be examined.

You pick up the coin, give it a little shake and the penny falls out leaving everything examinable and ordinary.
STRETCHING QUEEN
MORE INFO & BUY: HERE

This is a beautifully clean handling of Peter Kane's brilliant Elongated Lady effect.

You begin by removing three cards from your deck. The Queen of Hearts and the two black nines. All the cards are cleanly shown as you place the Queen face up between the two face down nines. In an eerie visual the Queen begins to stretch to one-and-a-half times its length for an impossible visual.

The Queen is then shrunk back to its normal size and all three cards are cleanly shown on both sides. The Queen can then be given out as a souvenir.
GAMBLER'S WAYS
MORE INFO & BUY: HERE

A small packet of cards is shown to be alternating with red and black cards. As you pretend to practice, you deal the cards singly, as doubles, as triples and finally as a round of poker. All the dealt hands prove that you have complete control of the cards' colors, suits and values. As a finale your hand is shown to be a Royal Flush.

The routine is considered advanced since there are many second deals used throughout. You are taught some strategies to make the deals smoother, faster, and easier. But even if the deals are not perfect, they are covered since this is supposed to be a practice session and not a magic routine.