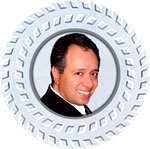 Meir's Muses
MyMagic eNewsletter #801
January 4, 2020
Turns out that 2019 was the year of exclusives. Since the new distributor models changed, it became more difficult for many manufacturers to produce in volume. Combined with almost all magic companies not wanting to invest in stocking more than 1-3 of a product, it created opportunities for me.

So even though I did not intend for my 2019 products to remain exclusive… that is what happened. It worked out well for both of us. For me it allowed me to sell more products at retail. For you… I was able to keep the prices lower and work with a smaller margin, you also received exclusive products that were not overexposed.

Many of the smaller manufacturers experienced the same situation and since I still have a gigantic warehouse, and I don't mind investing in other peoples' ideas and products, I was able to offer you items that nobody else had.

I am very proud of the four products I released this year and the twenty-one downloads. All are listed below with links.

2019 MyMagic New Releases:
►Magician Badge: HERE
►Catch Me & Win: HERE
►Victorious Triumph: HERE
►How To Make Money By Magic (Softcover): HERE
►How To Make Money By Magic (Hardcover): HERE

2019 MyMagic New Downloads:
►Aldo Colombini's Impromptu Card Magic Set: HERE
►Impromptu Card Magic #6: HERE
►Impromptu Card Magic #5: HERE
►Impromptu Card Magic #4: HERE
►Impromptu Card Magic #3: HERE
►Impromptu Card Magic #2: HERE
►Impromptu Card Magic #1: HERE
►NYCAN 1991 Convention Highlights: HERE
►Rage Therapy: HERE
►NYCAN 1990 Convention Highlights: HERE
►Rafael Benatar's Elegant Magic Set: HERE
►Lecture Notes Of Mike Bornstein: HERE
►Elegant Cups & Balls: HERE
►More Elegant Card Magic: HERE
►Elegant Card Magic: HERE
►Entertainment First!: HERE
►Charming Cheat Show & Lecture: HERE
►NY Magic Symposium 1986: HERE
►Black Box Cinema: HERE
►Misdirection Tutorial: HERE
►Paul Daniels Masterclass: HERE

2019 Exclusives That Are Still Available:
►Ping Pong Ball Vase: HERE
►Crochet Sponge Balls: HERE
►N-Stripper Deck: HERE
►Hand Mucking: HERE
►Joe Louis: HERE
►Skull & Bones Lapel Pin: HERE
►Zodiac Coin: HERE
►Crocodile Deck Holster: HERE
►Devil Head Lapel Pin: HERE
►Copper Dropper: HERE
►KD Reveal T-Shirt: HERE
►Question Mark Lapel Pin: HERE
►Vernon Spinning Coin: Memorial Edition: HERE
►Walking Liberty Chained: HERE
►Houdini Hebrew T-Shirt: HERE
►Ultimate Micro Chop Cup Kit: HERE
►Express Delivery: HERE
►Lota Mug: HERE
►Believe: HERE

There were actually many more exclusives that I offered you that quickly sold-out, since they were limited editions, and others that I only had a one or two month exclusive on and are now available at some other locations.

I want to thank all of you for your continued support and I hope that 2020 turns out to be the happiest and healthiest for all of us.

Until next time, Meir
Upcoming Live Appearances:
►Jan 16: Performing at Jeff McBride's Wonderground in Las Vegas. Get info: HERE.
►Jan 17-21: Exhibiting at the SAM National Convention in Las Vegas, NV. Info: HERE.
MAGICIAN BADGE
MORE INFO & BUY: HERE

This is a real Magician Badge that was fashioned on the badges used by law enforcement agencies around the world. It adds a level credibility to magicians while at the same time adding humor to your introductions. It is a great icebreaker.

The next time you walk up to strangers you can pull out the badge as you say your name and title of Magician. It causes a moment of panic followed by relief and laughter.

This badge was designed and manufactured from scratch. The amount of magical detail is incredible. If you look closely you will see Doves, Cups & Balls, Magic Wands, Playing Cards, Japanese Coins, and even two different reveals you can incorporate into your routines.
CATCH ME & WIN
MORE INFO & BUY: HERE

Gene Maze's fantastic chain routine combines the Fast & Loose or Endless Chain routines with the classic Three Card Monte and Three Shell Game scams.

The basic routine starts out with a wooden stand holding three pegs or posts. A chain is then wrapped around all the pegs as you explain that when the chain is pulled one peg will always catch while the other two will not. If they pick the peg that catches, they win.

No matter how hard they try they can't find it. Even though you keep making it easier and giving them tips, they always fail. The secret lies in the fact that you have total control of whether the spectator wins or loses so you can present the routine anyway you like.