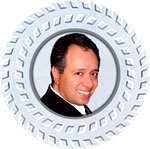 Meir's Muses
MyMagic eNewsletter #888
December 16, 2020
I guess the demand for punny items is even worse than the demand for puns (see last newsletter: HERE). I still have a bunch of the grey hares left so if you don't buy them, I will have to put them into my act. Get the 10pk: HERE or the Jumbo Grey Hare: HERE

Today's video download is a routine by my friend Magic Ian. This was one of the routines he was best known for and I remember being fooled by it many times when he demonstrated it behind his booth at conventions. But I was not the only one… he sold thousands of these when it was just a few balloons and written instructions.

On this 50+ minute video he performs and explains the routine many times, each time adding more tips and reinforcing the simplicity of setting up the balloon in front of your spectators. Of course, you can have it pre-set if you like. I think what fooled many of us was that it was set-up in front of us while we were getting a quarter and signing it. You see the balloon must go out of site for a few seconds while you supposedly tie off the end after inflating it. Ian did that, very casually, behind the booth, in his lap during close-up performances, and while strolling past a table or chair on stage.

The reason I mention that is that with very minor modifications this can easily be done off camera during a virtual show after you put a spectator's name on the quarter. The variation mentioned at the end of the video can also be applied since, with a camera, you can bring the balloon close, so the signed quarter can be seen inside the balloon.
Coin Ballonacy:
The basic effect is a borrowed and marked coin placed on the surface of an inflated balloon is visibly pushed into the balloon. The balloon can be popped to retrieve the marked coin.

The video features the basic routine plus scenes from Ian's lecture where he demonstrates and explains many additional routines and variations using props such as bills, pens, pins, coat hangers, silks and much more.

As a bonus, Ian also explains his handling and method for the close-up and stand-up versions of his Silk In Balloon routines.

Watch and buy: HERE
Red Coin Pouch:
This is a limited-edition leather pouch that can hold up to four half-dollar size coins and can even hold one back as you toss them out. It can also be used as a key chain.

I was able to buy the last seven of the special red ones at a good price and I am passing the savings to you.

Watch and buy: HERE

Believe:
Have been selling a bunch of these ever since Gary Brown performed it at Jeff McBride's Mystery School. It is a funny Christmassy trick.

Watch and buy: HERE
IBM JAM:
I have been working very hard on a new lecture that I will probably only do once. Some stuff from my youth and some that I never tipped before. I am sure that most of you have never seen me do these routines.

It will be an online lecture for the International Brotherhood of Magicians. The live event will be free on their facebook page on Tuesday December 22 at 9pm New York time and then archived on their website.

In the meantime, you should go to their facebook page and like it: HERE

eBay:
Auctions ending on Sunday night include Slum magic, cards, and books.
►29 Auctions ending on Sunday: HERE
►242 Collectibles in the store: HERE
Rapping Fingers:
It seems like every 34 years I get to appear on a music video. In 1986 I did some finger stuff in "Something To Believe In" by The Ramones (HERE) and this week in 2020 I appeared at the end of "Tricks Up My Sleeve" by Richie Richer: HERE
Warning: This is a rap video. If you are easily offended, you can skip the first three minutes to get to me.
Stay safe, Meir
PS: Can't wait till 2054 and see what genre music video I appear in next.
SMILEYS
MORE INFO & BUY: HERE

You start by explaining that there is an old expression that "people wear their emotions on their sleeve", but magicians wear their emotions on their coins!

You draw a sad face on the face of a half dollar and then… to make the coin feel better you tickle the coin, and it begins smiling when the sad face changes to a happy one! Another tickle, and the coin changes to a yellow smiley face! One last tickle, and the smiley face becomes a big smiley face, bringing a big smile to everyone.
GIGANTIC COMEDY PREDICTION
MORE INFO & BUY: HERE

This is an ideal stand-up routine with intrinsic situational comedy. Even if you are not a comedian the situational comedy that is built into the routine will always get you laughs. But not just laughs… The magic is strong and there is even a duel reality ending where the spectator and the audience experience two different effects and both are impactful!