Meir's Muses
MyMagic eNewsletter #988
January 22, 2022
Just got back from the SAM Convention in Las Vegas. First big event in a couple of years and it went much better than expected. Felt safe, not too many inconveniences, and got to finally hang out with some of my friends. I felt that the final show of the convention that I Emceed and performed in was excellent and sales at the booth were about average.
Not too many new products that caught my eye, but I did buy some stuff I will introduce you to soon. In the meantime I was able to pick up some stuff that many of you have been asking me about.
The black Rainbow Phantom Cards are finally back after close to a two-year absence and I bought a bunch of them for you.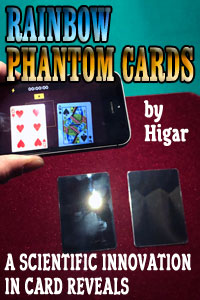 ►Rainbow Phantom Cards:
This is one of the most ingenious technologies that has been applied to magic. It was created and patented by Higar and has already been released in many different forms.
Perhaps the best magic application is with playing cards.
This does not work the same way as other versions. It is light years ahead of other technologies. The flash on the spectator's phone activates things but it cannot be seen by the naked eye. Only inside the phone.
Works with any phone or camera that has a flash. Does not require any apps or additional technology. Everything is examinable.
Watch & buy: HERE
►Also available is a Rainbow Card Routines download: HERE
Bernardo Sedlacek was at the convention, and I heard that his lecture was outstanding. He had a few of his Sedladecks left so I had to grab a bunch for you.
►Sedladeck:
Bernardo Sedlacek has been fooling magicians and laypeople around the world with his brand of devious magic that is powerful, visual and direct. He often closes his shows and lectures with his Sedladeck.
It is a devilishly structured routine where a deck of cards is placed in full view as you pretend to remove its spirit or essence.
A spectator or spectators pretend to eliminate/erase imaginary cards from the imaginary deck until there is one free selection left. That imaginary card is then turned face up, so it is the only face-up card in the imaginary deck and the rest of the deck is blank.
Watch and buy: HERE
As mentioned in the last newsletter, the Taillight Color Changing Knives are back in stock. But it looks like it might be another six months before I can get more of them.
►Taillight Color Changing Knives:
Never available before, these knives are made of the red Taillight material used for brake lights on cars. This allows for an interesting introduction to the knife.
You can explain that you had the knife made using the taillight of your parent's car, or from your first car and it has sentimental value and that is why you always carry it with you.
The knife style is a single blade 1893 Doctor's Knife that was used for counting and cutting pills, along with more dangerous procedures. They are working knives that are heavy, sharp, and easy to handle.
Watch and buy: HERE
►Also available is a Strolling Knife Routine download: HERE
►Essential Sol Stone: Intimate Magic with the Sol Stone Touch:
At long last, legendary New York magician Sol Stone's best effects have been amassed into a single volume. Here are more than 50 of Sol's favorite effects — including some of his most closely guarded secrets — all completely updated and rewritten, with the full routines and Sol's newest improvements.
The book details all the sleights and subtleties in Sol's arsenal, clearly and in isolation, thereby streamlining and simplifying the learning process. Magicians of all skill levels can learn from this master of intimate illusion.
Watch & buy: HERE
►Japanese Coins & Shell Set:
These very special coins are US Half Dollar size, they were stamped in brass, and were given an antique gold finish. The expanded shell was manufactured by making duplicate coins that were a little larger than a half dollar and then a lathe was used to hollow them out and create a perfect shell with full coverage. It is so good that you can show both sides of the shelled coin and you can't tell that it is there.
The set includes four regular Japanese coins and a matching shell.
BONUS: Every purchase of the set will include access to a 20-minute video tutorial starring David Roth, Derek Dingle, and Michael Gallo.
Watch & Buy: HERE
Although not surprisingly the best-selling products at the convention were the Eraser Coin, the Japanese Coins & Shell Set, and The Essential Sol Stone.
As expected, all the Wedgies in the last newsletter sold out immediately. Also, all the red back N-Strippers. I have a few blue Ns left: HERE
Stay happy, Meir
PS: It didn't take long but our Japanese coins have been knocked off. A magic company got to the people we used to make them and had them use the dies we paid for, to make the knockoffs. We are working on stopping them since Akemi Yoshida designed the coins and the copyright belongs to us. In the meantime, do not support any dealer who is advertising a version of them.