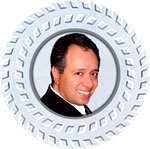 Meir's Muses
MyMagic eNewsletter #811
February 19, 2020
As many of you are aware, the Blackpool Magic Convention just ended, and it sounded like it was the biggest convention… ever!

As you may also remember from previous years I am often in contact with some of the dealers and at the end of the convention they hand over their leftovers to Mike Miller who generously carries them across the world, I then make a 180 mile round-trip to Pennsylvania and have lunch with him where I also get tipped off on the latest trends.

This year he delivered three of the items that recently sold out, multiple times: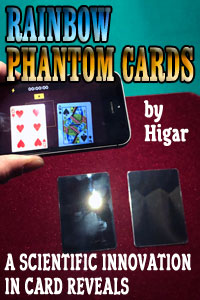 Rainbow Phantom Card:
The best use of incorporating advanced technology with a card trick that I have ever seen. I love this thing.

And if you buy them directly from me you get a link to a tutorial I made on how they work and how to use them.

Info and buy: HERE

I know that I promised to shoot an instructional download with three of my routines but have not had a chance, perhaps in the next 2-3 weeks. I am thinking of putting it out for around $6.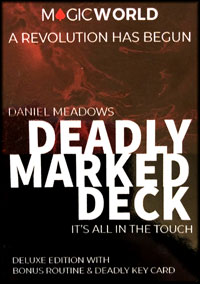 Deadly Marked Deck:
The most interesting marking system I have ever encountered. It is like braille but without adding any thickness to the cards. The identity of every card can be deduced by just running your thumb across the back.

And as I wrote before, since they are made of Bicycle cards you could sort specific cards out and add them to a regular deck (like reds and blacks) or use them for just about any routine using punch cards.

Info and buy: HERE
Misindexed Gaff Set:
I was surprised by the popularity of this custom printed pack of gaffs. You keep buying them from me, in multiples. Not sure what you are doing with them… but I am not complaining.

Info and buy: HERE
Warehouse Finds, Limited Quantities & Great Prices:

►Jumbo Three Card Monte:
This set of jumbo plastic cards uses the sliding system so you can show the cards as Kings or Queens by they way they are displayed. They are often used individually as a comedy prediction where you show the audience a King as your prediction but force a Queen. When the prediction is shown, every one is surprised to see that it changed into the selection.
Info and buy: HERE

► Color Changing Gum:
A triple color changing package of chewing gum where the final packet can be given out as a gift. It uses an Orbitz Gum shell that does all the work.

Info and buy: HERE

►Find The Red Card:
A basic three card Monte routine with a die-cut corner/sleeve so you can show the money card in the middle and swipe it as you reach for some money to make a bet. At the end all the cards are shown to be the same and are examinable.

Info and buy: HERE

►Magnetic Domino:
You get a metal Domino card with magnetic spots that can be moved around to form any Domino combination. which is formed by a spectator, and the final outcome is predicted. I never knew that there are only four combinations possible. It has me thinking.

Info and buy: HERE
Still Available:
►Jumbo Chinese Coin Color Change: HERE
►Chinese Coin Vision: HERE
►Vanishing Magnetic Mini Deck: HERE
►Ring On A Rope: HERE
►Sharpie Wonder: HERE
►Silk Cube: HERE
►Mystic Wand: HERE
►Plexiglass Prediction: HERE
►Chinese Coin Transformation: HERE

Until next time, Meir
Upcoming Live Appearances:
►Feb 22-25: Attending the New York Toy Fair in New York City.
►Feb 23: Attending the USPC Party in New York City.
►Feb 23: Attending the annual Inventor's Party in New York City.
►Mar 7: Exhibiting at NEMCON in Farmington, CT. Info: HERE.
►Mar 29: Lecturing at Mingus Magic in Reading, PA. Info: HERE.
►Apr 5: Exhibiting at the Real Magic Roadshow in Boston, MA. Info: HERE.
MAGICIAN BADGE
MORE INFO & BUY: HERE

This is a real Magician Badge that was fashioned on the badges used by law enforcement agencies around the world. It adds a level credibility to magicians while at the same time adding humor to your introductions. It is a great icebreaker.

The next time you walk up to strangers you can pull out the badge as you say your name and title of Magician. It causes a moment of panic followed by relief and laughter.
PING PONG BALL VASE
MORE INFO & BUY: HERE

A beautiful hand spun Ping Pong Ball Vase made of a single piece of exotic wood. It comes with a Ping Pong ball and a matching shell (ball vase type).

This is one of the few Ball Vases that uses a recognizable object, or what is termed an organic prop. Since the popularity of Beer Pong, that uses the same balls, has far surpassed the popularity of Table Tennis this has become a very common object.
CROCHET SPONGE BALLS
MORE INFO & BUY: HERE

These are hand-made crochet sponge balls. Similar to the crochet balls used for the Cups & Balls and Chop Cup routines except that instead of cork on the inside there is a sponge ball.
They look just like the cork balls but handle much easier and can be manipulated in many ways that would be impossible with cork balls. They can easily be manipulated using most techniques invented for solid balls and sponge balls. Can also be used for the Benson Bowl Routine or even a sponge ball routine.
CATCH ME & WIN
MORE INFO & BUY: HERE

Gene Maze's fantastic chain routine combines the Fast & Loose or Endless Chain routines with the classic Three Card Monte and Three Shell Game scams.

The basic routine starts out with a wooden stand holding three pegs or posts. A chain is then wrapped around all the pegs as you explain that when the chain is pulled one peg will always catch while the other two will not. If they pick the peg that catches, they win.

No matter how hard they try they can't find it. Even though you keep making it easier and giving them tips, they always fail or win. You have total control.