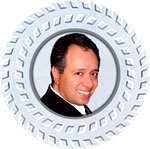 Meir's Muses
MyMagic eNewsletter #815
March 4, 2020
Doug Ries who designed and built the Pack Flat Tables I offered a few weeks ago found the time to make me some of his beautiful Sum It Up magic props. These are just beautiful and are made of Maple and Oak woods with clear Plexiglass windows.

Take a look at the video: HERE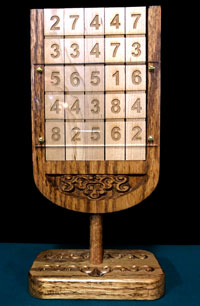 Sum It Up:
This is based on a now standard mathematical principle that has been marketed under many different names, variations and even as a toy.

The basic effect is of rapid calculation where you show off your superhuman skills. Five wooden blocks with numbers engraved on all four sides are placed in this beautiful stand. They are placed in any order and position the spectator likes.

When they are done, five five-digit numbers are in view. As the audience starts adding those numbers by putting them into their phone calculators you immediately tell them the total which will be between 200,000-300,000. Can be repeated as often as you like with different totals. You can also use fewer blocks for smaller totals. The method is easy and can be calculated by anyone who knows the secret, within seconds.

What is really nice about this version is that the stand is double sided, and the blocks have been strategically numbered so you can also figure out the total of the front numbers by looking at the back. I like this feature because it can be presented as mentalism. After the spectator figures out the total and concentrates on it, you can then read their mind and reveal the digits they are thinking of.

Watch and buy: HERE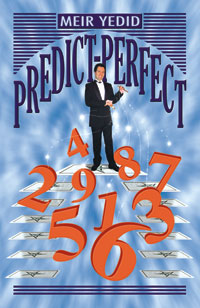 Predict-Perfect:
For some reason Predict-Perfect has been one of my best sellers. I used to perform it and teach it in my lectures and over the years, many, many magicians have shared with me their routines with it. And even though it is a mentalism piece, most of the applications that were described to me varied, from comedy to coincidence to superhuman skills.

Most recently Lior Manor taught his routine on his Penguin lecture and the sales for Predict-Perfect went through the roof. You see, the booklet that comes with it teaches how to force 198 different outcomes. After he did it in Blackpool I sold out.

My various suppliers have since gone out of business. So, I tried using a new playing card company that caters to the toy industry and I am very happy with the outcome. The cards are a little bigger than the previous editions and they are now printed on card stock. Unfortunately, I had to raise the price. But I am letting you buy it at the original price for the next week or two.

Get it: HERE
Back In Stock:
►Magic Sword Optical Illusion: HERE
►Torn Corner Machine 2.0: HERE
►Longitudinal Axis Penetration: HERE
Warehouse Finds, Limited Quantities & Great Prices:
This is part of a large Joker Magic inventory I purchased recently. Many of these items are no longer being manufactured and the ones that are will not be restocked. Once they are gone… they are gone.

►Diamond Extra:
A Jumping Gems type routine where gems appear, vanish, multiply, change color and expand while sitting on a plastic paddle.

Info and buy: HERE

►Missing Piece:
A few cards are torn by spectators and tossed around until there is only one face up piece left. That piece matches perfectly with a three-quarter card found in the card box.

Info and buy: HERE

►Mobile Printer:
A printing packet trick that interacts with an apparent App on your phone. I think this idea will work well with Ron Frost's Carderfeiter.

Info and buy: HERE
Still Available:
►Clone Cube: HERE
►Cube 4 You: HERE
►Ultimate Change: HERE
►Chameleon Deck: HERE
►Boomerang Cards: HERE
►Rope Illusion: HERE
►Penhenge Sharpie: HERE
►Inexhaustible Pack Of Cards: HERE
►Chinese Coin Bending: HERE
►Bermuda Mystery: HERE
►Color Changing Gum: HERE
►Gum Game: HERE
►Find The Red Card: HERE
►Magnetic Domino: HERE
►Jumbo Chinese Coin Color Change: HERE
►Vanishing Magnetic Mini Deck: HERE
►Ring On A Rope: HERE
►Silk Cube: HERE
►Mystic Wand: HERE
►Plexiglass Prediction: HERE
►Chinese Coin Transformation: HERE
On Saturday I will have a booth at the 39th Annual NEMCON in Connecticut. Featured performers include: Carisa Hendrix, Norman Beck, Asi Wind, Ken Scott, Mateo Price-Otero, and Matt Roberts. Hope to see some of you there. Registration and information: HERE.

Until next time, Meir
Upcoming Live Appearances:
►Mar 7: Exhibiting at NEMCON in Farmington, CT. Info: HERE.
►Mar 29: Lecturing at Mingus Magic in Reading, PA. Info: HERE.
►Apr 5: Exhibiting at the Real Magic Roadshow in Boston, MA. Info: HERE.
CATCH ME & WIN
MORE INFO & BUY: HERE

Gene Maze's fantastic chain routine combines the Fast & Loose or Endless Chain routines with the classic Three Card Monte and Three Shell Game scams. When the routine was originally published many top pros built their own sets and put it into their shows.

The object is for the spectator to pick the peg that catches. No matter how hard they try they can't find it. Even though you keep making it easier and giving them tips, they always fail. Of course, the secret lies in the fact that you have total control of whether the spectator wins or loses.
MAGICIAN BADGE
MORE INFO & BUY: HERE

This is a real Magician Badge that was fashioned on the badges used by law enforcement agencies around the world. It adds a level credibility to magicians while at the same time adding humor to your introductions. It is a great icebreaker.

The next time you walk up to strangers you can pull out the badge as you say your name and title of Magician. It causes a moment of panic followed by relief and laughter.
PING PONG BALL VASE
MORE INFO & BUY: HERE

A beautiful hand spun Ping Pong Ball Vase made of a single piece of exotic wood. It comes with a Ping Pong ball and a matching shell (ball vase type).

This is one of the few Ball Vases that uses a recognizable object, or what is termed an organic prop. Since the popularity of Beer Pong, that uses the same balls, has far surpassed the popularity of Table Tennis this has become a very common object.
CROCHET SPONGE BALLS
MORE INFO & BUY: HERE

These are hand-made crochet sponge balls. Similar to the crochet balls used for the Cups & Balls and Chop Cup routines except that instead of cork on the inside there is a sponge ball.
They look just like the cork balls but handle much easier and can be manipulated in many ways that would be impossible with cork balls. They can easily be manipulated using most techniques invented for solid balls and sponge balls. Can also be used for the Benson Bowl Routine or even a sponge ball routine.