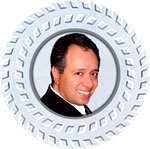 Meir's Muses
MyMagic eNewsletter #831
May 9, 2020
FIRST: I am continuing to ship your orders on a daily basis. Thank you for your continued support.
I continue to do my Zoom lectures on an almost daily basis. I was originally planning on stopping on May 24 (Memorial Day) but I got a few more requests so I extended it to the end of May. Then I got a few more and now I decided to do a hard stop on June 14. My retirement of this new lecture will be for the SAM Virtual Assembly.

I have a few free dates during the last week in May and the first two weeks in June, so if you belong to a magic club or group, anywhere in the world, and you are regularly having your meetings on Zoom, feel free to contact me for an available date and time. It is FREE!
Ace-Tronauts:
I used to perform Ron Frost's Ace-Tronauts (when I dreamed of becoming the "Packet Trick King"). Years later when I bought the rights to his product line one of the first items, I released was his Ace-Tronauts. It sold well and I have around 100 left. I think many people bought it because of the crazy looking ending.

I just shot a video trailer for it, so you get to see the handling and effect. I used the original patter that was included with the routine, but you can tell any story you like to get to the ending. The Aces could symbolize anyone, or any group that is known to have egos.

Watch and buy: HERE

Back in stock:
Hekate Mental Die: HERE
Mini Tangram Paradox: HERE
Warehouse Finds, Limited Quantities & Great Prices:
This is part of a large Joker Magic inventory I purchased recently. Many of these items are no longer being manufactured and the ones that are will not be restocked. Once they are gone… they are gone!

Still Available:
►Preferred: HERE
►Pass Through Deck: HERE
►Giant Domino: HERE
►Hit The Jackpot: HERE
►Fully Packed: HERE
►BRB Dice: HERE
►Diamond Extra: HERE
►Mobile Printer: HERE
►Clone Cube: HERE
►Cube 4 You: HERE
►Ultimate Change: HERE
►Chameleon Deck: HERE
►Boomerang Cards: HERE
►Penhenge Sharpie: HERE
►Inexhaustible Pack Of Cards: HERE
►Chinese Coin Bending: HERE
►Color Changing Gum: HERE
►Gum Game: HERE
►Find The Red Card: HERE
►Magnetic Domino: HERE
►Jumbo Chinese Coin Color Change: HERE
►Vanishing Magnetic Mini Deck: HERE
►Ring On A Rope: HERE
►Silk Cube: HERE
►Mystic Wand: HERE
►Plexiglass Prediction: HERE
►Chinese Coin Transformation: HERE

Stay safe, Meir
Upcoming Live Appearances:
► The Magic Bag Of Trix Lecture appearing at magic clubs worldwide during their Zoom meetings.
SIX TO ONE DICE
MORE INFO & BUY: HERE

This is a visual and impromptu routine using any borrowed dice. It is based on Les Scheyer's "A Dice Interlude" but uses a slightly simpler method and an additional backward phase.

You begin by explaining that the best way to tell if a set of dice are real and not tampered with is to add up the opposite sides of the dice to make sure that they all total to seven.

You then explain that even using real dice a sleight of hand artist can make you see any number they like. You demonstrate this by showing that the dice have one, two, three, four, five, and six on opposite sides. To further prove your point, you go backwards by showing 6-5-4-3-2-1 on opposite sides instead of the known numbers.
CAPITULATING QUEENS
MORE INFO & BUY: HERE

This routine has often been referred to as one of the best packet tricks. It has more visual impossibilities than most in its genre.

You cleanly show four queens, explaining that one of them is very special. The first three Queens that are selected are shown to have different colored backs.

The last Queen is cleanly shown to have a blue back as you explain it too is special. The cards are shown again and now they all have red backs except for the last Queen.

As a finale the four Queens are shown to have four different back designs and colors and they can even be handed for examination.
RAINBOW CARD ROUTINES
MORE INFO & BUY: HERE

Higar's Rainbow Phantom Cards are among the most ingenious technologies that has been applied to magic. I have been performing with them for years and on this video tutorial I will teach my three favorite routines. These are routines that I use. Two of them are close-up routines and one is used when I am performing formal close-up or stand-up.

Taught are Meir Yedid's Rainbow Cut Card Routine, Rainbow Doctor Who Routine, Rainbow Wonder Mirror Routine, and Trevor Lewis' Swivel Cut Swindle.

The spectator's face is always framed with the reveal and saved on their phone. And most importantly every time they look at the picture, they will be reminded of you and your performance.
CATCH ME & WIN
MORE INFO & BUY: HERE

Gene Maze's fantastic chain routine combines the Fast & Loose or Endless Chain routines with the classic Three Card Monte and Three Shell Game scams. When the routine was originally published many top pros built their own sets and put it into their shows.

The object is for the spectator to pick the peg that catches. No matter how hard they try they can't find it. Even though you keep making it easier and giving them tips, they always fail. Of course, the secret lies in the fact that you have total control of whether the spectator wins or loses.