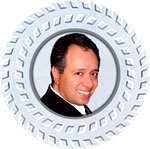 Meir's Muses
MyMagic eNewsletter #822
March 29, 2020
FIRST: I am continuing to ship your orders on a daily basis. Thank you for your continued support.
Well, another week has ended with limited live interaction, travel, and fun. I am probably less affected by being isolated since I am basically an introverted loner and have been socially distancing my whole life.

Although my diet has been horrible, since I am the type that has trouble boiling water without it evaporating by the time I realize that it should be done.

I just realized that I have not eaten a single vegetable in around a month. Will try to fix that by ordering a Pizza tomorrow… Tomatoes are vegetables… right?
Spent a lot of time shooting video tutorials for some upcoming releases and I am happy with most of the results. I also got a chance to shoot the routine I use for the Origamagic Cranes and upload it as a new trailer. I also just received a small shipment of them.

Watch and buy: HERE

I just read that MyMagic has grossed more money last week that the entire US movie industry, whose box office receipts were zero…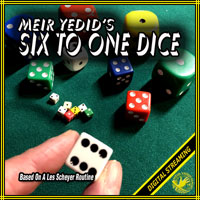 One of the routines I have been doing since childhood was my Six To One Dice. I came up with it after Les Scheyer showed me his routine in the 1970s. I thought I was doing his routine until he saw me do it and said that my handling was a little different and the second, backward, phase I was doing never occurred to him.

I regularly use it as the prelude to Sol Stone's Radical Dice Routine and often use it as a standalone quickie. At one time I bought 500 black dice that I was going to stamp my web address on and give out after each strolling performance. I still have around 490 dice laying around. But it was still a good idea.

It is difficult to explain what the effect is so you will have to watch the trailer: HERE

It took me a very long time to figure out how to explain it since the moves, although simple, are difficult to teach. And it will take you a little while to train your fingers to do the movements smoothly and train your brain to remember what to do. It is one of my go to quickies and I almost always have dice in my pocket just for this. I think that if you put the time into it you will really like it.

Watch and buy: HERE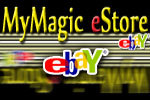 Was able to add 26 different items at auction that will expire on Sunday night. They are mostly collectible decks of cards.

A direct link to the auction items is: HERE

If you want to visit the store and browse around go: HERE.

Warehouse Finds, Limited Quantities & Great Prices:
This is part of a large Joker Magic inventory I purchased recently. Many of these items are no longer being manufactured and the ones that are will not be restocked. Once they are gone… they are gone!

►Pass Through Deck:
This is a terrific and well-made version of the Visible Block Penetration using a heavily gaffed deck of cards.

Info and buy: HERE

Still Available:
►Vanishing Cardbox: HERE
►Giant Domino: HERE
►Hit The Jackpot: HERE
►Fully Packed: HERE
►Twin Cards: HERE
►BRB Dice: HERE
►Diamond Extra: HERE
►Mobile Printer: HERE
►Clone Cube: HERE
►Cube 4 You: HERE
►Ultimate Change: HERE
►Chameleon Deck: HERE
►Boomerang Cards: HERE
►Penhenge Sharpie: HERE
►Inexhaustible Pack Of Cards: HERE
►Chinese Coin Bending: HERE
►Color Changing Gum: HERE
►Gum Game: HERE
►Find The Red Card: HERE
►Magnetic Domino: HERE
►Jumbo Chinese Coin Color Change: HERE
►Vanishing Magnetic Mini Deck: HERE
►Ring On A Rope: HERE
►Silk Cube: HERE
►Mystic Wand: HERE
►Plexiglass Prediction: HERE
►Chinese Coin Transformation: HERE

Stay safe, Meir
Upcoming Live Appearances:
► Nothing!
CATCH ME & WIN
MORE INFO & BUY: HERE

Gene Maze's fantastic chain routine combines the Fast & Loose or Endless Chain routines with the classic Three Card Monte and Three Shell Game scams. When the routine was originally published many top pros built their own sets and put it into their shows.

The object is for the spectator to pick the peg that catches. No matter how hard they try they can't find it. Even though you keep making it easier and giving them tips, they always fail. Of course, the secret lies in the fact that you have total control of whether the spectator wins or loses.
MAGICIAN BADGE
MORE INFO & BUY: HERE

This is a real Magician Badge that was fashioned on the badges used by law enforcement agencies around the world. It adds a level credibility to magicians while at the same time adding humor to your introductions. It is a great icebreaker.

The next time you walk up to strangers you can pull out the badge as you say your name and title of Magician. It causes a moment of panic followed by relief and laughter.
PING PONG BALL VASE
MORE INFO & BUY: HERE

A beautiful hand spun Ping Pong Ball Vase made of a single piece of exotic wood. It comes with a Ping Pong ball and a matching shell (ball vase type).

This is one of the few Ball Vases that uses a recognizable object, or what is termed an organic prop. Since the popularity of Beer Pong, that uses the same balls, has far surpassed the popularity of Table Tennis this has become a very common object.
RAINBOW PHANTOM CARD
MORE INFO & BUY: HERE

This is one of the most ingenious technologies that has been applied to magic. It was created and patented by Higar and has already been released in many different forms.

Perhaps the best magic application is with playing cards. The card is examinable, but when photographed, the photograph in the spectator's smart phone appears to have turned into the spectator's selection.