Meir's Muses
MyMagic eNewsletter #1,014
May 25, 2022
Although most of the new magic I purchased in Las Vegas should arrive next week. I was able to sneak some stuff in my luggage.
One of the routines I saw at Magic Live that I really liked was shown to me by Harry Nardi.
It is a rare piece where the premise, presentation, effect, and method all put a smile on my face. So, I bought all he had left at the end of the convention.
►Zoltar's Opener:
This is a simple and direct routine that practically works itself.
You begin by showing a deck of cards with a picture of Zoltar the mind reader on the box asking you to think of a card (free choice). As you turn the box it asks you to name your card and then the writing on the other side of the box proclaims that Zoltar knew you were going to think of that card.
To prove Zoltar "the Svengali" knew what you were going to think of, the cards are removed from the deck, the named card is taken out and shown to be the only odd-backed card in the deck.
Watch and buy: HERE
I have written about Higar's brilliant card reveal many times and even released a video tutorial with my routines. I was able to get a bunch of new force cards in both the black and mirror editions. Get them while you can.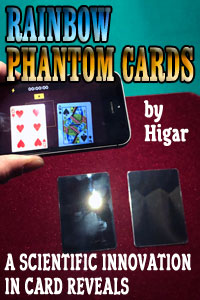 ►Rainbow Phantom Card:
This is one of the most ingenious technologies that has been applied to magic. It was created and patented by Higar and has already been released in many different forms.
The strongest and most important part of all the routines is that you are using the spectator's phone to take the pictures. The spectator's face is always framed with the reveal. The spectator will never delete the picture since nobody deletes pictures of themselves. And most importantly every time they look at the picture, they will be reminded of you and your performance.
Watch and buy: HERE
My presentation for the Chocolate edition of the Freer Puzzle received many compliments and you purchased hundreds of them from me. I really thought that I would never be able to restock them but was able to get a few.
►Puzzling Chocolate:
An impossible puzzle that gives the impression of magic. You show a bar of Mini Chocolates with 70 pieces of chocolate. You remove one piece leaving 69. You then rearrange the pieces, so it looks like you still have 70 pieces left — an impossibility. But that is not all. You repeat the sequence two more times so a total of three pieces are removed and left in plain sight, yet the chocolate bar is still complete with 70 countable pieces!
Watch and buy: HERE
Stay happy, Meir
PS: If you had trouble going to my website last week, it is all fixed. Once again it seems that someone reported the site as phishing and the databases that monitor those things automatically blocked it without checking. They have now done a detailed analysis and apologized. You can read the last newsletter: HERE