Meir's Muses
MyMagic eNewsletter #918
April 3, 2021
Around a million years ago when I was hitting 30+ worldwide conventions per year with my booth I often bumped into the same magic dealers which I also often traveled with and shared hotel rooms with. One such person was Arthur Emerson who had the same passion for packet tricks as me. I bought and played with all his releases.
At some point while still a teenager I decided that I was going to convert some of these packet tricks into stage pieces since I already worked out the presentations, all I had to do was use larger cards and change the handling a little.
The first routine I tried it with was Larry West's The Whole Thing. I already put in a lot of work into Billy McComb's Hole Collection comedy routine, so I was ready with all the extra patter. Somewhere I have a bunch of photographs of a skinny me with a beard performing it but could not find them in time. I still have my original (as pictured). The cards were made using white cardboard and dark blue wallpaper (now referred to as contact paper).
I always had them hanging on a music stand, which I still use when doing my stage act (although I am planning on upgrading to a video projector stand). The way I kept the cards safe during the show and introduce them was using a gigantic paperclip I bought at a ThinkBig! store. It held the cards and could be used as a handle. After removing the cards and displaying the clip for all to see I would say… "I breed these suckers…" and then go into the routine. If that line didn't get a reaction, I would expand (explain) it.
Around 5-10 years later Daryl bought the rights to the routine and released it with jumbo cards. I stopped doing my routine because I did not want to be accused of stealing Daryl's idea.
The good news is that this terrific routine is once again available. I decided to only carry the stage version.
►The Whole Thing:
The Whole Thing is a magical piece that was created by Larry West which uses wordplay and unique cards to present a funny and entertaining routine that is suitable for stage and parlor performances.
The wordplay revolves around the confusing meanings of the words: hole, whole, and spot. Although the patter and handling Daryl uses are mostly from Larry West's original, he did add a few phrases to make it his own. Watch the trailer for the complete performance.
Watch and buy: HERE
By the way. The two other packet routines that were easily converted to the pack-small, play-big scenarios and have become my favorites to perform on stage or when emceeing shows are:
►Max Maven's Jumbo B'Wave: HERE
►Meir Yedid's Jumbo Quick Monte: HERE
There were many others I played with, performed, and even marketed but the above two are my favorite.
When converting packet tricks to jumbo stage versions one of the most important things to consider is to do all the sleights so the cards face the audience and whenever possible around chest level. Over the years I worked out handlings for most counts, grips, and spreads so they can be done at chest and face level. It is a good exercise and the best way to do virtual shows using regular cards.
In the last newsletter I mentioned the two items that always sold out. And they did, once again. I have another shipment coming in on Monday if you want to sign up for notifications: Sleeper (HERE ), Invisible Card (HERE). Quantum (HERE).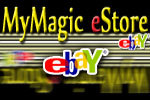 ►eBay:
I have a few items at auction that are expiring on Sunday night that I think you might like:
►Direct auction link: HERE
►MyMagic eBay Store: HERE
Stay safe, Meir
PS: Have been upgrading my personal website and re-wrote my quick biography. Take a look at: meiryedid.com