Meir's Muses
MyMagic eNewsletter #919
April 7, 2021
A few years ago, Christoph Borer's Get Sharky was likely the best-selling trick of that year. The effect was Max Maven's Pocket Nightmare, but the method was completely different.
I was recently playing with the deck and realized that it can also be used as a mind reading deck which you can use to force several different cards on people and know which one each person has. Simple and direct mind reading.
They just stick out their fingers and use them to open the deck and remember a card. There are six different cards that can be selected in each deck and you can even make their cards vanish from the deck and appear in an impossible location.
►Get Sharky:
You explain that you are going to show something that was performed by a famous one-armed magician. To demonstrate you place your right hand in your pocket. With your left hand you hold up the deck of cards and instruct the spectator to peek at any card they like.
Without any suspicious moves you hand the deck to the spectator and nonchalantly snap your fingers. The spectator is now asked to go through the deck and find their chosen card. The spectator looks through the deck, but the card has vanished! (The deck can even be dealt onto the table, one card at a time, by the spectator… their card is not there!)
You slowly remove your right hand from your pocket and show the selected card!
Watch and buy: HERE
The Terry Broshears' Taillight Color Changing Knives have become popular among Paddlers and Knivers (are those real categories?). We really should have called them Breaklight knives since that is a more visual title. Wanted to let you know that all versions are back in stock.
►Taillight Color Changing Knives:
Never available before, these knives are made of the red Taillight material used for brake lights on cars. This allows for an interesting introduction to the knife.
You can explain that you had the knife made using the taillight of your parent's car, or from your first car and it has sentimental value and that is why you always carry it with you.
The knife style is a single blade 1893 Doctor's Knife that was used for counting and cutting pills, along with more dangerous procedures. They are working knives that are heavy, sharp, and easy to handle.
Watch and buy: HERE
►Sleeper:
This is an excellent gimmick that can be added to your ordinary deck of cards to make a selected card rise out of it. What makes this gimmick special is that it is the thickness of three playing cards and once the selected card is returned into the gimmick it can be locked in place so you can shuffle and handle the deck before making the card rise in your hand.
Watch and buy: HERE
►Back in stock:
Zodiac Coin: HERE
Question Mark Lapel Pin: HERE
The Invisible Card: HERE
Quantum: HERE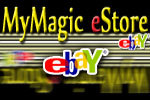 ►eBay:
I have 10 items at auction that are expiring on Sunday night that I think you might like:
►Direct auction link: HERE
►MyMagic eBay Store: HERE
Stay safe, Meir
PS: My new release is coming along nicely. Had to buy some new power tools and learn how to use them… getting the hang of it and can't wait to show it to you. I hope you will carry it in your pocket everyday… like I am already doing!