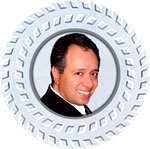 Meir's Muses
MyMagic eNewsletter #870
October 7, 2020
FIRST: I am continuing to ship your orders on a daily basis. Thank you for your continued support.

Derek Dingle loved performing Ring Flight and had some nice work on it. I always remember a story about his protégé Kenny Earl who was performing at one of Peter Wong's restaurants and borrowed an expensive ring. He was standing near a wall and when the ring came flying back it hit the wall and the diamond on the ring got loose and ended up going down the air conditioning duct. There were many other similar stories back then, so I always shied away from that method and eventually settled with a combo routine using a borrowed ring on string sequence that ended on Steve Dusheck's Ringer.

There has always been a fascination with a borrowed object to impossible location effect. It is personal and impossible and forces people to care about what is happening. That is why I decided to carry Reynold Alexander's new item that was released through Penguin. I reedited the trailer so in more accurately describes the effect.

Although this can be used for walk-around, close-up, and even on stage, I think that it is most ideal for use behind a bar or at a trade-show booth.

Watch: HERE
Ring In The Bell:
The basic effect is simple to follow and direct. You borrow a finger ring, put it into your fist, remove a bell from your pocket and wave it over your fist. When you open your hand, the ring has vanished.

You then hand the bell to the spectator and show them how to ring it over their fist. But the ring does not come back. Until the spectator looks inside the bell, it is seen sitting inside as the ringer/clapper which you then remove and return to your spectator. Comes with a gimmicked bell and access to a one-hour instructional video.

Watch and buy: HERE
Books Back In Stock:
Roberto Giobbi: The Art Of Switching Decks: HERE
Juan Tamariz: Magic Rainbow: HERE
Juan Tamariz: Verbal Magic: HERE
Juan Tamariz: Mnemonica: HERE

Tricks Back In Stock:
Brent Braun: Definitely Not Marked: HERE
Steve Gore: GPS Regatta Deck: HERE
Origamagic White Crane: HERE

eBay:
18 Auctions ending on Sunday: HERE
231 Collectibles in the store: HERE

Stay safe, Meir

PS: Have you seen my interview with Sol Stone? He is the only one I know who remembers shopping at the original Tannen's in Brooklyn! Take a look: HERE
GIGANTIC COMEDY PREDICTION
MORE INFO & BUY: HERE

This is an ideal stand-up routine with intrinsic situational comedy. Even if you are not a comedian the situational comedy that is built into the routine will always get you laughs. But not just laughs… The magic is strong and there is even a duel reality ending where the spectator and the audience experience two different effects and both are impactful!

Comes complete with a Gigantic Prediction Card (10.5" x 15") that is transformational, a set of Jumbo Forcing Cards (5" x 7"), and access to a 30-minute video tutorial featuring Meir Yedid, Jim Spinnato, Rick Wilcox, and George Schindler.
STROLLING KNIFE ROUTINE
MORE INFO & BUY: HERE

This is a quick and visual color changing knives routine with multiple phases that keep getting more impressive and more impossible.

You begin with a single red knife. As you wave your hand over it, it keeps changing color to white. This is done several times until you explain that you cheated by using a second knife that is hidden under your wristwatch.

To demonstrate the impossibility, you place the red knife under your watchband and the white one in your fist. They magically change places. You then place one in each hand and they change places, and as a finale you place the white knife in the spectator's hand and the red one in yours. Under impossible conditions they change places.