Meir's Muses
MyMagic eNewsletter #1,024
July 2, 2022
The magic offered in the last newsletter sold out within minutes, so I decided to get more and have everything shipped overnight. Since I was spending a small fortune on shipping, I decided to reload some of the other products that also sold out recently.
To read my thoughts about the individual items you can find the original newsletters archived on: MagicTimes.com
Here we go:
►Oh No!:
A close-up illusion where you display a small box with built in scissors and a tube down the center. You place your finger into the tube from underneath, so it protrudes from the top of the tube and you visually cut it in half.
Watch and buy: HERE
►Four Nightmares DX:
A beautiful five phase rope routine where two unequal ropes stretch to the same size, they are tied together and merge into one rope, a knot is tied in the center and visually slid off, another larger knot is formed and slid off to form a loop, as a finale the loop and rope meld together into one rope.
Watch and buy: HERE
►Pocket Slot Machine:
A plastic disc is handed to a spectator who picks a number and thinks of a slot machine symbol. You can immediately read their mind and tell them the symbol they are thinking of even though your back was turned. You can even do this while you walk away to another room.
Watch and buy: HERE
►Taillight Color Changing Knives:
Never available before, these knives are made of the red Taillight material used for brake lights on cars. This allows for an interesting introduction to the knife. You can explain that you had the knife made using the taillight of your parent's car, or from your first car and it has sentimental value and that is why you always carry it with you.
Watch and buy: HERE
►Gambler's Ring:
This is a finger ring made of titanium steel that is brought to a high shine so it can be used as a mirror/shiner to see the cards as they are being dealt off the deck. It also has a blister built in to use as a card punch so you can peg cards during play or while doing magic.
Watch and buy: HERE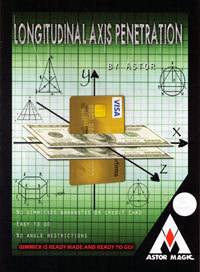 ►Longitudinal Axis Penetration:
A clear plastic case with two overlapping US bills is shown and a borrowed credit card is visually pushed through both bills apparently ripping them. But when the bills are removed from the case, they are undamaged.
Watch and buy: HERE
►Ghost Cash:
A clear plastic sleeve/wallet which contains a white sheet of paper with a crude illustration of a US twenty-dollar bill is shown. As pull out the paper it is visually gets colorized to look like a real bill… but wait… It is a real bill!
Watch and buy: HERE
►Tyvek Himber Envelopes:
A two-way out, two-sided, envelope that looks the same on both sides and holds poker size cards. It can be used for predictions, for multiple out routines, or use it to switch small objects.
Watch and buy: HERE
Stay happy, Meir
PS: Monday is a holiday in the US so all orders that come in by 3pm will ship today.