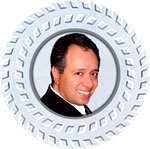 Meir's Muses
MyMagic eNewsletter #867
September 26, 2020
FIRST: I am continuing to ship your orders on a daily basis. Thank you for your continued support.
Have been working on this release for quit a while. It is an excellent stand-up routine with built in humor and is practically self-working. It can be used in formal close-up shows or large theaters.

In addition to all the gaffed props it comes with a 30-minute video tutorial. I wanted to include some live performances and my friends Jim Spinnato and Rick Wilcox who both commenced their live theatrical shows agreed to test drive it and sent me some videos to use. They also came up with handlings and phases that I would have never considered. Also making an appearance on the tutorial is George Schindler!

The trailer is also interesting, and I think you will really enjoy it. You are going to be surprised at some of the cameo appearances by my favorite comedy magicians, who also happen to be some of the best in the world.

Watch: HERE
Surprised? You may be wondering how did I get them to appear on the trailer? To paraphrase Tom Mullica, "Did I have nude pictures of them with a pitchfork and a goat!" Just a joke… didn't have to use the pictures…

Gigantic Comedy Prediction:
This is an ideal stand-up routine with intrinsic situational comedy. Even if you are not a comedian the situational comedy that is built into the routine will always get you laughs.

But not just laughs… The magic is strong and there is even a dual reality ending where the spectator and the audience experience two different effects and both are impactful!

Comes complete with a Gigantic Prediction Card (10.5" x 15") that is transformational, a set of Jumbo Forcing Cards (5" x 7"), and access to a 30-minute video tutorial featuring Meir Yedid, Jim Spinnato, Rick Wilcox, and George Schindler.

Watch and buy: HERE
I really like this because it is one of the few routines where the reactions you get from an audience are disproportionate from the minimum amount of effort you put into it, and what you would expect as a reaction before trying it.

Get it now, get it: HERE
Strolling Knife Routine:
Wanted to remind you that the introductory price for my color changing knife routine expires on Tuesday night. It is a quick routine and sold as a video download.

Watch and buy: HERE
Stay safe, Meir

PS: I guess this is my first official release of the year. The Jewish new year of 5780. The digits total 20? A coincidence? Coming soon… a coincidence that will blow your mind!
CARD SILK SET
MORE INFO & BUY: HERE

There are many routines published, recorded, and marketed using card silks. A card silk is a silk scarf with a picture of a playing card on it.

This two-silk set allows you to present sucker like routines with you missing and then making good. It is also an excuse to magically change one silk into another.

Our silk set which is ideal for Thumb Tip use includes two 9-inch silks: A full-color blank card and a full-color King of Hearts card.
ESP FEELER CARDS
MORE INFO & BUY: HERE

This is a set of six ESP Symbol Cards (Rhine Cards) that have been manufactured with the "Feel A Color" principle build into them. This allows you to feel the orientation of the cards, even while they are inside envelopes.

They can be used in many ways and can reproduce routines commonly done with one-way cards… except these can be performed while you are blindfolded or with the cards behind your back.