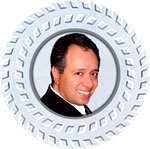 Meir's Muses
MyMagic eNewsletter #816
March 7, 2020
For the past few years I have been hearing about Nick Diffatte as being the future of comedy magic. He has already been featured on the cover of the major magic magazines and he is the regular replacement for Mac King. Everyone has been telling me he is hysterical, and I finally got to see him do one routine as part of Rudy Coby's show at the SAM Convention and he was outrageous… I laughed the entire time.
I heard his last name pronounced many different ways so I thought I would give you the official pronunciation: Dee-Fatt.

Or as Harry Lorayne would make you remember his name: picture a really fat Harry Potter with his belly exposed and a big scar showing. Now picture Rocco pointing at the scar and saying, a "Nick" in "D'Fat," …OK, maybe that wasn't very funny, but this is.

A few months ago, he released his first book that was called "Funny" and the first printing sold out very quickly. The second printing just arrived, and he offered me an exclusive for a short time. So, this is your chance to get it…

I really enjoyed reading it. But don't take my word for it. Read what the giants in the comedy magic field, The Amazing Johnathan, Mac King, Stephen Bargatze, Paul Kozak, and Nick Lewin think about this book: HERE.

Oh, he agreed to autograph every single copy that I have in stock…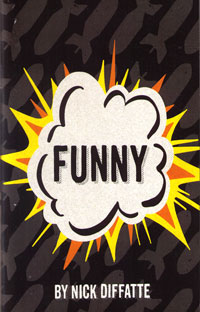 Nick Diffatte Funny:
The book takes you on a conversational tour through the art of comedy, magic, the integration of both. You are also exposed to the many aspects of becoming a good comedy magician, writer, performer and how to stand out in the field.

There are a total of eleven essays that cover the various subjects. They include: How I Learned to Stop Worrying and Love the Bomb, Cheap Notebooks, Funny, Trends Are Traps, Bad Shows, Theft, Openers, Swearing, If You Want Meat Go to a Butcher, Writing, and Looking Outside of Magic.

You are also taught three routines:
Dye Another Day: This is Nick's handling and method for Billy McComb's Half-Dyed Hank routine where you produce a scarf, change its color, explain the method and end with it being a blend of the colors.

Nest Of Office Supplies: Nick's handling of the object to wallet/impossible location plot. Whatever you vanish ends up inside a sealed envelope, that is encased in Aluminum foil and sealed in a bubble mailer.

Schtick Of Gum: A brilliant application of the Bank Night premise. You reward your helper with a piece of gum that they freely remove from the packet. It turns out to be the only stick that has gum inside, the others have folded money that you kept for safe keeping in case you got mugged.

Get an autographed copy: HERE
Warehouse Finds, Limited Quantities & Great Prices:
This is part of a large Joker Magic inventory I purchased recently. Many of these items are no longer being manufactured and the ones that are will not be restocked. Once they are gone… they are gone…

BRB Dice:
A plastic box with two dice is shown and examined. One of the dice is placed in your pocket but comes back to the box. It then vanishes and ends up back in your pocket.

Info and buy: HERE

Chinese Coin And Gold Coin Transposition:
A version of the Chinatown Half gimmick where two different coins change places and everything is examinable.

Info and buy: HERE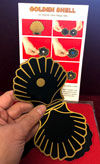 Golden Shell:
A plastic in the shape of a shell is shown with a white pearl. The pearl keeps changing color many times until it turns into gold and everything is examinable.

Info and buy: HERE
Still Available:
►Diamond Extra: HERE
►Missing Piece: HERE
►Mobile Printer: HERE
►Clone Cube: HERE
►Cube 4 You: HERE
►Ultimate Change: HERE
►Chameleon Deck: HERE
►Boomerang Cards: HERE
►Rope Illusion: HERE
►Penhenge Sharpie: HERE
►Inexhaustible Pack Of Cards: HERE
►Chinese Coin Bending: HERE
►Bermuda Mystery: HERE
►Color Changing Gum: HERE
►Gum Game: HERE
►Find The Red Card: HERE
►Magnetic Domino: HERE
►Jumbo Chinese Coin Color Change: HERE
►Vanishing Magnetic Mini Deck: HERE
►Ring On A Rope: HERE
►Silk Cube: HERE
►Mystic Wand: HERE
►Plexiglass Prediction: HERE
►Chinese Coin Transformation: HERE
On Saturday I will have a booth at the 39th Annual NEMCON in Connecticut. Featured performers include: Carisa Hendrix, Norman Beck, Asi Wind, Ken Scott, Mateo Price-Otero, and Matt Roberts. Hope to see some of you there. Registration and information: HERE.
Until next time,
Meir
Upcoming Live Appearances:
►Mar 7: Exhibiting at NEMCON in Farmington, CT. Info: HERE.
►Mar 29: Lecturing at Mingus Magic in Reading, PA. Info: HERE.
►Apr 5: Exhibiting at the Real Magic Roadshow in Boston, MA. Info: HERE.
CATCH ME & WIN
MORE INFO & BUY: HERE

Gene Maze's fantastic chain routine combines the Fast & Loose or Endless Chain routines with the classic Three Card Monte and Three Shell Game scams. When the routine was originally published many top pros built their own sets and put it into their shows.

The object is for the spectator to pick the peg that catches. No matter how hard they try they can't find it. Even though you keep making it easier and giving them tips, they always fail. Of course, the secret lies in the fact that you have total control of whether the spectator wins or loses.
MAGICIAN BADGE
MORE INFO & BUY: HERE

This is a real Magician Badge that was fashioned on the badges used by law enforcement agencies around the world. It adds a level credibility to magicians while at the same time adding humor to your introductions. It is a great icebreaker.

The next time you walk up to strangers you can pull out the badge as you say your name and title of Magician. It causes a moment of panic followed by relief and laughter.
PREDICT-PERFECT
MORE INFO & BUY: HERE

An outstanding prediction effect where you have 100% control over 198 possible outcomes. This routine is a reputation maker. It has every performance quality needed to make it into a classic. It is self-working. Learned in minutes. Immediately repeatable. No memory work. No stooges. No complicated mathematics. Self contained. Can be performed up-close or on stage. You will love the method as well as the effect. It is a pure pleasure to perform.
CROCHET SPONGE BALLS
MORE INFO & BUY: HERE

These are hand-made crochet sponge balls. Similar to the crochet balls used for the Cups & Balls and Chop Cup routines except that instead of cork on the inside there is a sponge ball.
They look just like the cork balls but handle much easier and can be manipulated in many ways that would be impossible with cork balls. They can easily be manipulated using most techniques invented for solid balls and sponge balls. Can also be used for the Benson Bowl Routine or even a sponge ball routine.