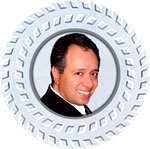 Meir's Muses
MyMagic eNewsletter #853
August 5, 2020
FIRST: I am continuing to ship your orders on a daily basis. Thank you for your continued support.
Is a forced vacation still a vacation? I lost power on Tuesday around noon because of the rain and wind that hit New Jersey and the current estimate is to have it back on Friday morning.
Without electricity there is also no phone, tv, internet, food, air conditioning, fans, hot water, etc… although I did eat a lot if ice cream… don't want that to spoil!
I was able to ship all orders with battery operated equipment and my cell phone as a hot spot. Although my cell phone carrier texted me that I used up 75% of my monthly data plan in one day! Who knows what my August bill will look like.
The one thing I was not able to do is add new product to the website and put together a fresh newsletter for you.
Below is last Saturday's newsletter. If you have not seen my latest release, please take a look at the Feeler Cards… which are also foolers…
---
Today I am introducing you to my newest release. You get six special ESP Cards and matching envelopes that are completely examinable but are still deviously gaffed.

The instructional video that comes with them teaches you how to use them and goes over some applications and routines.

The main routine however uses a combination of methods that were suggested to me by Bill Schmeelk and after much experimentation it became a devious masterpiece.

Here is what happens:
Six ESP Cards and envelopes are examined. Each ESP card is placed in an envelope and everything is mixed so nobody knows the position of any of the cards.

The spectator takes the envelopes behind their back moves them from top to bottom, one at a time until they are happy. They then take the top envelope while handing you the rest.

But wait… they hand you the envelopes behind your back… so you never actually see them.

You then ask them to look inside their envelope to see what they selected.

But wait… Believe it or not you already know what they selected… before they even get a chance to look!

You can then reveal their ESP Symbol anyway you like.

No electronics, no extra gimmicks, completely self-contained, free choice of selection, very easy, practically self-working, everything is examinable, and can be repeated immediately.

What are you waiting for?

Watch and buy: HERE

I was only able to make a limited number of these. Once they are gone… That's it!
Rubinstein Coin Magic:
The second printing did not sell-out yet. I can still have these books shipped to you directly from the distributor so there are no delays.

If you love coin magic you will love this book.

Order one: HERE

Ebay:
73 eBay auctions expiring on Sunday night. A combination of very rare slum magic (Adams in particular) and hard to find decks of cards.

►A direct link to the 73 auction items: HERE

Stay safe, Meir

PS: I keep updating the MagicTimes.com site daily. If you were active in magic between 1997 and 2000 (which is what I am currently up to) try searching for your name. You might be surprised at what you find.
FUSION COINS
MORE INFO & BUY: HERE

Two coins are examined by your friends (a Quarter and a Penny) as you explain the different metals they are made of.

You then place the Penny on top of the Quarter and after a little squeeze the penny sinks into the quarter and is fused inside. The odd new coin can then be examined.

You pick up the coin, give it a little shake and the penny falls out leaving everything examinable and ordinary.
STRETCHING QUEEN
MORE INFO & BUY: HERE

This is a beautifully clean handling of Peter Kane's brilliant Elongated Lady effect.

You begin by removing three cards from your deck. The Queen of Hearts and the two black nines. All the cards are cleanly shown as you place the Queen face up between the two face down nines. In an eerie visual the Queen begins to stretch to one-and-a-half times its length for an impossible visual.

The Queen is then shrunk back to its normal size and all three cards are cleanly shown on both sides. The Queen can then be given out as a souvenir.
RUBINSTEIN RATTLE PURSE
MORE INFO & BUY: HERE

This is a very special coin purse that is hand-made in Italy using fine Italian leather and contains real coins inside a hidden compartment that are used to create a perfect jingling sound when the purse is shaken… even when it is empty.

The purse is used to add an audible element to your coin magic. Simple things like shaking the purse after pretending to put coins inside, solidifies the fact that the coins must be inside because you can hear them inside. The same sound can be used to prove the arrival of vanished coins before any sneaky stuff is done.
NY COIN MAGIC SEMINAR 16-VOLUME DVD SET
MORE INFO & BUY: HERE

Dr. Michael Rubinstein, David Roth, Michael Gallo, Geoff Latta and their many friends, who also happen to be the the best creators and performers of magic with coins, showcase and teach the art of coin magic.

16 volumes, 17 DVDs (+1 bonus disc), 18-performers, 250+ routines and techniques, on 36+ hours of video. The DVDs also contain bonus features, panel discussions, historical discussions, lectures, workshops, hidden bonuses, guest appearances and much more.