Meir's Muses
MyMagic eNewsletter #922
April 17, 2021
Mike Breggar, who is a Linking Ring columnist, first approached me about his great idea of using flat dice around two years ago. I loved the concept, loved the method, and loved the routine. But I did not want to get into the manufacture of these custom half-dice which would cost a small fortune to mass produce. Since that time Mike has gone through a bunch of prototypes and found a source to make them by hand using a laser cutter and a ton of labor afterwards. They look just like dice but have a hand-made quality to them which adds charm and innocence to the process.
The routine is practically self-working and uses a devious method. I always said that if you want to fool me all you have to do is either use hidden thread or hidden math. This routine uses hidden mathematics and will fool just about anyone you show it to… And isn't that the point in doing magic?
Just for fun I even decided to try this out over the phone, having the spectator make their own set of dice using a pen and paper. It worked. It's a killer.
I believe Mike only made 50 sets of these and am not sure how, when, or even if, he will make another batch. It will be partially up to you.
►Flat Dice:
This is a devious three-phase routine using a unique set of nine flat dice which only have two surfaces. You can present it as magic or mentalism. You can use all the dice for all three phases or use each phase as a stand alone routine. The possibilities are endless as no matter how many times the spectator rolls the dice you will know their total while your back is turned.
The method is self-working and uses some simple math that is completely hidden within the presentation. To get the information all you must do is casually ask a seemingly simple and unrelated question that allows you to figure out the totals. You will love doing this.
Watch and buy: HERE
A few years ago, I introduced you to Kelvin Chow's Quiver, which is the most devious switching devise. I had an exclusive on them for around a year and many of you were the first to learn its secret. It has since become a go to switching purse for coins and a multiple out device for mentalists. This is also the only place you can get his original tutorial (automatically goes into your account) and access to the new video. I just got a few of each size in stock…
►Quiver:
Kelvin Chow has designed one of the best and cleverest switching coin purses. It functions the same way as the classic change bag. What makes it special is that it can be handed to a spectator to open and they will always open it to the main compartment. You will be the only one who can open it to the secret compartment.
Watch and buy: HERE
NOTE: I have another shipment of Quivers arriving on Monday. If I run out again, please sign up for notifications. Also expecting a shipment of the recently sold-out Plasma to arrive on Monday. Get notifications: HERE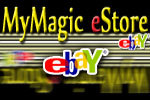 ►eBay:
I have 16 items at auction that are expiring on Sunday night that I think you might like. Some will surprise you. They come from the estates of Ron Wohl, Sol Stone, and Whitney Houston!
►Direct auction link: HERE
►MyMagic eBay Store: HERE
Stay safe, Meir
PS: Dice are a natural object that people are familiar with and play boardgames with. You should search for the word dice on my site to see what else I offer in that category.